Ko shrugs off latest death threat
PART OF THE JOB: Taipei's mayor promised to take necessary preventive measures, but added that risks are a part of life, which he also faced when he worked as a doctor
Taipei Mayor Ko Wen-je (柯文哲) yesterday continued his marathon of temple visits on the second day of the Lunar New Year holiday, greeting temple-goers and distributing "lucky money" despite the discovery of a death threat at Taipei City Hall on Thursday.
"Doctors also face risks. Sometimes you'll cut yourself and could get infected with hepatitis B or C or even HIV, but no one would say that because of this you should not practice medicine," said Ko, former head of National Taiwan University Hospital's Department of Traumatology.
"We will take whatever preventive measures are necessary, but we will still do what we need to do," he said.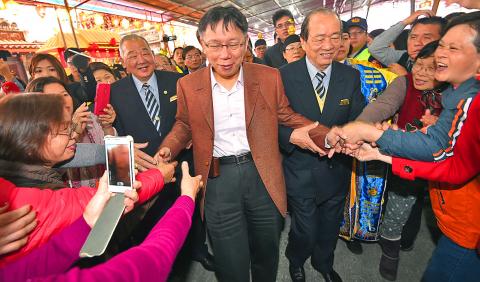 Taipei Mayor Ko Wen-je, center, shakes hands with temple-goers during a visit to the Taipei Songshan Fengtian Temple yesterday, the second day of the Lunar New Year holiday.
Photo: Chang Chia-ming, Taipei Times
Tu Ying-hui (杜英輝), director of Taipei City Hall's Public Affairs Management Center, said that a crumpled piece of recycled paper with repeated scrawled threats to kill the mayor was found on Thursday on the ground outside the building's Family Theater.
Parts of the building have remained open to the public during the holiday, with no new restrictions planned, he said.
The note is the second reported death threat Ko has received, following a threatening phone call last month. While Ko was photographed riding the MRT unaccompanied shortly after taking office in December, he later said he would reduce such trips due to safety concerns.
The Taipei Police Department said that additional measures had been taken to protect Ko's safety, but no additional body guards would be dispatched.
The threatening note has been sent to the police department for appraisal, while city hall surveillance cameras will be examined to attempt to determine who left it.
Many other political figures also continued their visits to temples yesterday, where they distributed red envelopes and New Year's blessings.
President Ma Ying-jeou (馬英九) also visited Ma Village (馬家庄) in Miaoli County's Tongsiao Township (通霄).
While most of the village's residents are surnamed Ma, none of the president's ancestors or relatives have ever lived there.
Ma started paying homage at Ma Village on the second day of the Lunar New Year 19 years ago after he learned about it.
Additional reporting by staff writer
Comments will be moderated. Keep comments relevant to the article. Remarks containing abusive and obscene language, personal attacks of any kind or promotion will be removed and the user banned. Final decision will be at the discretion of the Taipei Times.