Shiite rebels seize power in Yemen, dissolve parliament
Yemen's powerful Shiite rebels announced on Friday that they have taken over the country and dissolved parliament, a dramatic move that finalizes their months-long power grab.
The development also pushes the impoverished country further into chaos and threatens to turn the political power struggle into a full-blown civil and sectarian conflict, pitting Houthi Shiites against the country's majority Sunnis.
It could also play into the hands of Yemen's al-Qaeda branch, the world's most dangerous offshoot of the terror group, and jeopardize US counter-terrorism operations in the country.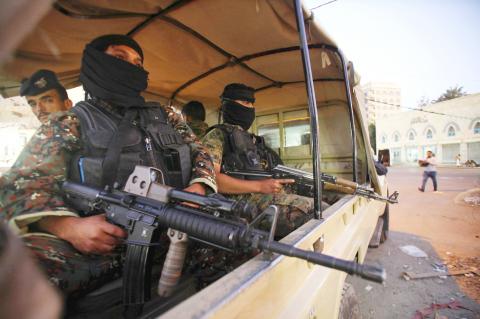 Houthi fighters guard the presidential palace in Sana'a, Yemen, on Friday.
Photo: Reuters
The declaration was read out by a TV announcer who said the move marked "a new era that will take Yemen to safe shores."
It was televised to the nation on the rebels' television network, al-Masseria TV.
An audience of hundreds of supporters, including former officials, at the Republican Palace in the capital, Sana'a, clapped furiously, while later, Houthi supporters took to the streets to celebrate, setting off fireworks.
The takeover statement named the Houthis' security and intelligence arm, known as the "Revolutionary Committee," as the ruling body of Yemen.
The takeover was followed by an explosion yesterday outside the Houthi-controlled presidential palace in Sana'a, wounding a policeman and a civilian, witnesses said.
The impoverished Arabian Peninsula country has teetered on the brink of fragmentation for the past year, but the crisis took a turn for the worse in September last year, when the Houthis took control of Sana'a after descending from their northern stronghold and fighting their way into central Yemen, seizing several other cities and towns along the way.
Their rising dominance forced Yemeni president Abed Rabbo Mansour Hadi and all Cabinet members to submit their resignations last month.
Since then, Hadi and the ministers have been under house arrest. The rebels issued a deadline, which expired on Wednesday, for Yemen's political parties to negotiate what they called a way forward, warning that if there was no resolution, they would act unilaterally.
The Houthis also said that the "Revolutionary Committee" would act as the country's government. The committee would also be tasked with forming a new parliament with 551 members.
The takeover comes after days of failed talks sponsored by the UN envoy to Yemen.
A former member of the Houthis' political arm, Ansar Allah, described the takeover as "madness" and a "horror movie" that would result in Yemen's collapse.
"Goodbye Yemen," Ali al-Bukhiti wrote on his official Facebook page.
Additional reporting by AP and Reuters
Comments will be moderated. Keep comments relevant to the article. Remarks containing abusive and obscene language, personal attacks of any kind or promotion will be removed and the user banned. Final decision will be at the discretion of the Taipei Times.