DPP's William Lai says he will not run for president
Despite speculation and encouragement from supporters, Tainan Mayor William Lai (賴清德) yesterday announced that he would not run in next year's presidential election, adding that he would fully support Democratic Progressive Party (DPP) Chairperson Tsai Ing-wen's (蔡英文) campaign.
"I will not join the DPP primary for next year's presidential candidate," Lai told reporters at a charity event in Tainan. "First of all, I think it's more important to hold on to values than hold any positions, and I don't necessarily have to be the person who leads the party to victory."
Lai added that Tsai has been preparing to run in next year's election for a long time and is a good candidate to represent the DPP, "since she has led the DPP to stand up again after its defeat in 2008 and it was under her leadership that the DPP was able to win in the nine-in-one local elections last year."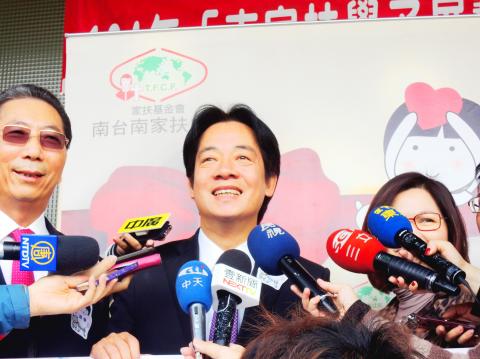 Tainan Mayor William Lai talks to reporters in Tainan yesterday.
Photo: Tsai Wen-chu, Taipei Times
"The DPP should stand united and give its full support to Tsai — and I will also give my best wishes to her," Lai said.
He said that he did not want to quit his current position now, as he has a rare chance to reform local politics in Tainan, adding that "it is more important to uphold a value than hold a position."
Although Lai said he would not take part in next year's presidential election and the DPP finalized its nomination schedule last month, many supporters as well as DPP politicians — including former presidential adviser Koo Kwang-ming (辜寬敏) and Kaohsiung Mayor Chen Chu (陳菊) — have expressed their support for Lai, with Koo even promising the media that Lai would decide to run in the end.
However, Lai declined to answer when asked if he decided not to run because his support rate is much lower than Tsai's.
Meanwhile, Tsai said she respects Lai's decision and lauded him as a courageous and talented politician.
"Lai is an excellent political leader in the party; what he has accomplished as mayor of Tainan makes him a role model in leadership and governance," Tsai said. "I especially admire him for his courage in fighting against dirty money and reforming local politics."
"As Lai is an excellent politician, I would like to invite him to be part of the 2016 presidential election [campaign]," she added.
Comments will be moderated. Keep comments relevant to the article. Remarks containing abusive and obscene language, personal attacks of any kind or promotion will be removed and the user banned. Final decision will be at the discretion of the Taipei Times.