Thailand, China bolster military ties
NEIGHBORLY: The two nations agreed to closer military cooperation as Thailand switches its focus from the US to China following a military coup in Bangkok last year
China and Thailand yesterday agreed to boost military ties over the next five years, from increasing intelligence sharing to fighting transnational crime, as Thailand's ruling junta seeks to counterbalance the country's alliance with Washington.
The agreement came during a two-day visit by Chinese Minister of Defense General Chang Wanquan (常萬全) to Bangkok, and as Thailand's military government looks to cultivate Beijing's support amid Western unease over a delayed return to democracy.
"China has agreed to help Thailand increase protection of its own country and advise on technology to increase Thailand's national security," Thai Minister of Defense General Prawit Wongsuwan said.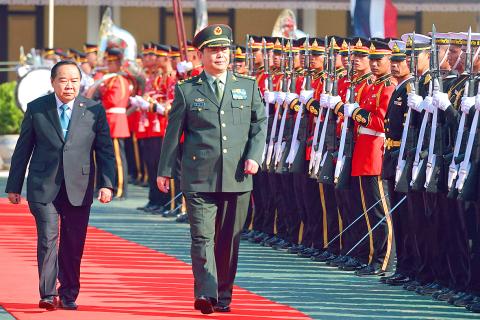 Thai Minister of Defence Prawit Wongsuwon, left, and Chinese Minister of Defence Chang Wanquan walk past an honor guard during a welcoming ceremony at the Ministry of Defence in Bangkok yesterday.
Photo: AFP
"China will not intervene in Thailand's politics, but will give political support and help maintain relationships at all levels. This is China's policy," he said.
Under the junta, Thailand has stepped up engagement with China at a time when Beijing increases its influence in Southeast Asia with a raft of loans and aid for infrastructure.
At the same time, Washington has sought to show its renewed commitment to a strategic "pivot" toward Asia by boosting military ties and equipment sales across the region.
Prawit said Thailand and China agreed to increase joint military exercises, but did not give further details.
"We agreed to increase joint military exercises between Thailand's air force and China's air force and to increase overall military cooperation over the next three to five years," he said.
Thailand's army took control in May last year, saying it needed to restore order after months of political unrest that included street protests in Bangkok that killed nearly 30 people. The US, a long-time ally of Thailand, expressed dismay at the coup and froze US$4.7 million of security-related assistance and canceled some security cooperation.
US-Thai relations deteriorated further last month when Bangkok accused Washington of meddling in its political affairs over the remarks by a visiting US envoy who criticized the junta.
The junta has said it will hold onto power for at least another year, with a general election planned for early next year.
Despite the tensions, the US will hold its annual Cobra Gold combined military exercise with Thailand next week. However, the drill has been scaled down in scope to humanitarian assistance and disaster relief.
The drill, Asia-Pacific's largest annual multinational military exercise, also involves China.
Comments will be moderated. Keep comments relevant to the article. Remarks containing abusive and obscene language, personal attacks of any kind or promotion will be removed and the user banned. Final decision will be at the discretion of the Taipei Times.