Hostage talks with Islamic State now deadlocked: Japan
Efforts by Japan and Jordan to secure the release of two of their nationals held captive by Islamic State militants remain "deadlocked" and the situation remains highly unpredictable, Japanese officials said on Friday.
Militants earlier threatened to kill Jordanian pilot Muath al-Kasaesbeh unless a would-be suicide bomber on death row in Amman was handed over by sunset on Thursday.
Japanese journalist Kenji Goto was also being held by the militants.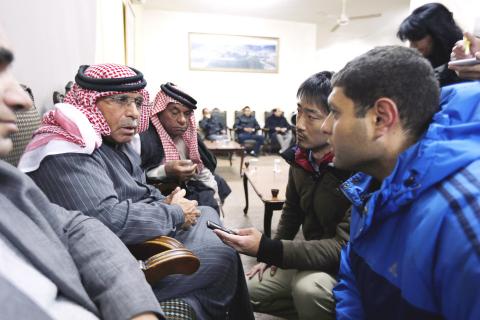 Safi Yousef, second left, father of captive Jordanian pilot Muath al-Kasaesbeh, speaks to Japanese journalists as he waits for news about his son at his family clan's headquarters in Amman, Jordan, on Friday.
Photo: Reuters
"The situation is deadlocked," Japanese State Minister for Foreign Affairs Yasuhide Nakayama said in Jordan late on Friday, according to Japanese public broadcaster NHK.
Japanese Minister for Foreign Affairs Fumio Kishida yesterday said in Tokyo that the situation was unpredictable, NHK reported.
"Anything could happen," he said. "We cannot predict it at all. While preparing for every situation, I want to make every effort for Mr Goto's release."
Japanese Chief Cabinet Secretary Yoshihide Suga arrived at Japanese Prime Minister Shinzo Abe's office yesterday afternoon, and the prime minister remains on standby to receive regular updates on the situation, NHK said.
Jordan's army on Friday said that state agencies were "working round the clock."
An audio message purportedly from Goto said the pilot would be killed if Jordan did not free Sajida al-Rishawi, jailed for her role in a 2005 suicide bomb attack that killed 60 people in Amman.
The crisis comes as the group, which has already released videos showing the beheadings of five Western hostages, is coming under increased military pressure from US-led air strikes and by Kurdish and Iraqi troops pushing to reverse the Muslim extremist group's territorial gains in Iraq and Syria.
Comments will be moderated. Keep comments relevant to the article. Remarks containing abusive and obscene language, personal attacks of any kind or promotion will be removed and the user banned. Final decision will be at the discretion of the Taipei Times.