Tainan councilor slams Mayor Lai over 'no-show'
Chinese Nationalist Party (KMT) Greater Tainan Councilor Hsieh Lung-chieh (謝龍介) yesterday accused Tainan Mayor William Lai (賴清德) and 20 local government officials of dereliction of duty, obstructing official business and violating the Local Government Act (地方制度法) after Lai and his administrative team's no-show at an interim session of the council.
Lai had said on Jan. 6 that he would not attend any council meetings until the court has resolved allegations of vote-buying involving the election of Tainan Council Speaker Lee Chuan-chiao (李全教), a KMT member.
Lai said that, in the meantime, he would let residents directly supervise his performance and that he would take political responsibility for his actions.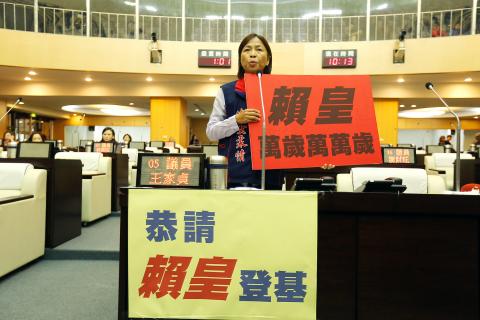 Chinese Nationalist Party (KMT) Greater Tainan Councilor Wang Chia-chen holds up a sign that reads "Long live Emperor Lai" at the Tainan City Council building yesterday after Tainan Mayor William Lai, city officials and Democratic Progressive Party councilors refused to participate in an interim council meeting.
Photo: CNA
Hsieh went to the Tainan District Prosecutors' Office later yesterday and charged Lai with violating Articles 134 and 135 of the Criminal Code and Articles 48, 49 and 84 of the Local Government Act. He said that Lai and the officials' failure to show up at the meeting ran counter to democratic procedures and might lead to a crisis in government.
He said that Greater Tainan Council Secretary-General Huang Kung-hsi (黃恭喜) had made repeated calls and KMT councilors Lu Kun-fu (盧崑福), Wang Chia-chen (王家貞) and others had attempted to visit the officials, but Lai and his team had been unreachable.
However, some legal experts questioned the validity of Hsieh's move, saying that it is the Ministry of the Interior — not the court — that decides on issues pertaining to violations of the Local Government Act.
Some councilors also said that the Control Yuan should investigate Lai and other officials for allegedly interfering with the running of the local government because of "personal reasons."
Lai traveled to Taipei yesterday morning to attend a Cabinet meeting, during which he suggested that the government establish a state-level examination center in southern Taiwan in response to an outbreak of avian influenza in the south.
Lai said that setting up such a center would be more effective than sending samples north for examination.
More than eight counties and at least 40 farms in the south have confirmed infections since the outbreak last week.
Tainan Deputy Mayor Yen Chun-tso (顏純左) and Tainan Secretary-General Chen Mei-ling (陳美伶) visited Siaying (下營) and Madou (麻豆) districts to oversee the culling of chickens infected by the virus.
Responding to questions about Lai's absence at the council meeting, the local government said that on-site monitoring of the influenza spread was more important than meetings.
Hsieh said that if Lai did not see the error of his ways and chair meetings on how the local government should deal with the influenza outbreak, Lai was betraying the trust of the people who had placed their faith in him by electing him to office.
Additional reporting by CNA
Comments will be moderated. Keep comments relevant to the article. Remarks containing abusive and obscene language, personal attacks of any kind or promotion will be removed and the user banned. Final decision will be at the discretion of the Taipei Times.