Taiwan takes air route issue to ICAO
UNILATERAL MOVE: The foreign ministry said that since China has not yet filed an application with the UN agency about the new routes, they can still be changed
Taiwan has taken its objection to China's plan to open new flight routes in the Taiwan Strait to the International Civil Aviation Organization (ICAO), Minister of Foreign Affairs David Lin (林永樂) said yesterday.
The government has also conveyed its position on the matter to major countries and urged Beijing to continue negotiations on the issue with Taipei, Lin said.
"The mainland should not implement the new routes before the negotiations are completed," Lin said at a meeting of the legislature's Foreign Affairs and National Defense Committee.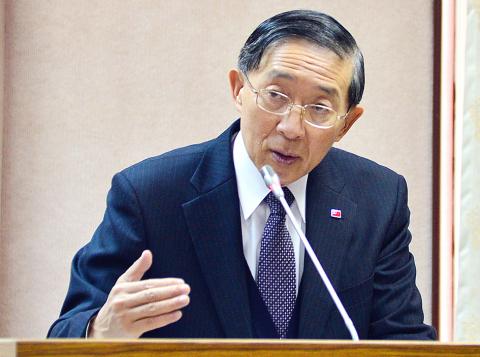 Minister of Foreign Affairs David Lin speaks at a question-and-answer session at the legislature's Foreign Affairs and National Defense Committee yesterday, saying that the government has expressed its objection to China's plan to open new flight routes over the Taiwan Strait to the US and other countries.
Photo: CNA
The unilateral move by China is totally unacceptable to Taiwan, he said, adding that since Beijing has yet to file a formal application with the UN agency, the plan can still be changed.
At a separate meeting of the legislature's Transportation Committee, officials said that Taipei had conveyed to Beijing its position on the issue and Beijing had indicated that it was willing to communicate with the government.
According to the Civil Aeronautics Administration (CAA), Beijing announced an updated aviation safety bulletin on Monday morning that added four new air routes near China's southeast coast. Among them, the north-south M503 route runs nearly parallel to the median line of the Taiwan Strait, coming as close as 7.8km. The three other routes — W121, W122 and W123 — run east-west and serve as feeder routes for the M503, with W122 and W123 potentially affecting flights to Taiwan's outlying islands of Matsu and Kinmen.
Beijing has indicated that it plans to start using these new routes on March 5, the CAA said.
Lawmakers questioned the potential safety issues engendered by the establishment of these new routes.
Democratic Progressive Party (DPP) Legislator Yeh Yi-jin (葉宜津) said that a preliminary investigation into the Dec. 28 crash of AirAsia Flight QZ8501 showed that the pilot had asked for permission to fly at a higher altitude to avoid a major storm, but the request was denied because there were other aircraft above him.
Yeh said that flights to Kinmen and Matsu might be similarly at risk if the air routes of Taiwan and China overlap.
Chinese Nationalist Party (KMT) Legislator Lo Shu-lei (羅淑蕾) said that although Taiwan is not a member of the ICAO, it can still communicate with the Beijing government through the Mainland Affairs Council (MAC) and the Straits Exchange Foundation (SEF).
The new air routes would not only threaten aviation safety, but also national security, she said.
DPP Legislator Kuan Bi-ling (管碧玲) expressed her dissatisfaction with the way the government had reacted to Beijing's unilateral move.
Kuan said that US Department of State deputy spokesperson Marie Harf had also urged China to communicate with all parties that would be affected by these new routes because the issues are important to Washington.
"The ministry only asked the CAA director-general [Jean Shen (沈啟)], who is to retire on Friday, to respond, while the MAC also indicated that cross-strait negotiations would continue as planned without any disruption," Kuan said.
Top US officials cannot express concern over this matter if Taiwan does not take tougher action, she said, adding that the incident has exposed the government's ignorance of political maneuvering.
"How can the US play an eagle if the government is as gentle as a dove?" Kuan asked.
CAA Deputy Director-General Fang Chih-wen (方志文) said in response that the agency had conducted two informal negotiations with Chinese government officials at the end of last month, in which the agency had clearly said that China should not interfere with Taiwan's air routes.
"Both the MAC and the SEF had asked China to move further west from the M503 route, so that there would not be any safety issue when there is unstable weather," Fang said.
Acting Minister of Transportation and Communications Chen Chien-yu (陳建宇) said that Taiwan still has time to negotiate with China, adding that China is willing to negotiate.
In Beijing, China said on Wednesday that Taiwan should not be so suspicious of its intentions on opening new commercial air routes.
Chinese state media outlets quoted China's Taiwan Affairs Office as saying that Taipei must be "more understanding and less suspicious" about the four routes.
Additional reporting by Reuters
Comments will be moderated. Keep comments relevant to the article. Remarks containing abusive and obscene language, personal attacks of any kind or promotion will be removed and the user banned. Final decision will be at the discretion of the Taipei Times.