Netizens react to Sunflower movement leader Chen Wei-ting's grope admission
PAST WRONGDOING: While a National Taiwan Normal University professor said Chen was 'dangerous,' other netizens expressed their support and lauded his courage
A revelation by Sunflower movement leader Chen Wei-ting (陳為廷) that he once groped a female passenger's breast on a bus has sparked heated debate among netizens, who had mixed views.
In an interview with the Chinese-language Liberty Times (the Taipei Times' sister newspaper) published yesterday, Chen, who is running for legislator in the by-election in Miaoli County in February, was asked to discuss his potential risk of falling victim to "attacks on his personal integrity," to which he responded by making the revelation, saying: "There are things that I have kept to myself for a long time."
"One day, during the summer vacation before my senior year in college, I groped the bosom of a female passenger sitting next to me on public transport and was taken to a police station. Sometime later, I had improper physical contact with a female on the dance floor at a night club, for which I underwent mental health consultation at the order of school administrators," he said.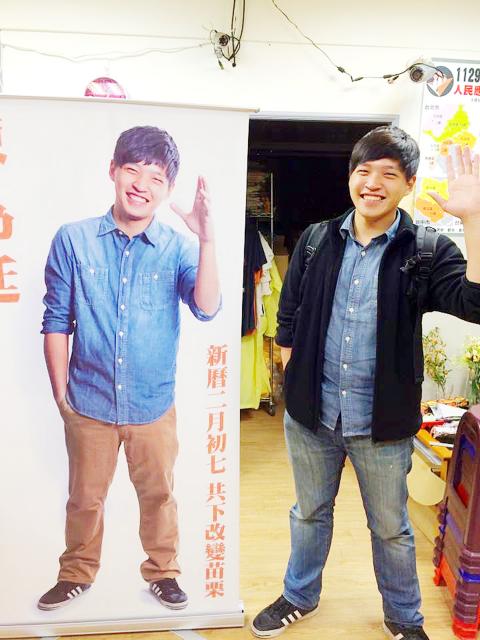 Taiwan March founder and Miaoli County legislative by-election candidate Chen Wei-ting stands next to a poster of himself on Monday.
Photo from Lin Fei-fan's Facebook page
Some netizens condemned Chen, with one saying that touching a woman's body without permission — whatever the reason — without her permission is exactly what "subway gropers" do.
"He is just afraid that these incidents will impact his campaign when they are exposed, so he might as well reveal it now," one said.
National Taiwan Normal University professor Wu Chia-cheng (吳家誠), referring to Chen's previous act of throwing his shoe at Miaoli County Commissioner Liu Cheng-hung (劉政鴻) to protest against the county government's forced demolition of four houses in Dapu Borough (大埔), criticized Chen on Facebook, saying: "He throws his shoe at someone when he is mad and gropes women's bosoms when he is high. He is dangerous."
Others expressed support for Chen and said he showed courage by confessing his past wrongdoing.
"I was very shocked when I heard [Chen's confession]," Defend Miaoli Youth Alliance member Yu Chieh-min (游捷閔) said.
Knowing Chen on a personal level, Yu said he has many shortcomings, but she also commended his courage in admitting what he did.
"It shows that he is not afraid to admit that he was wrong and is willing to improve. I believe he will adopt a more mature attitude toward women. He has not lost my support," she said.
Using former US president Bill Clinton as an example, Chinese dissident Wang Dan (王丹) said Americans could forgive Clinton because they elected him as they believed him to be capable of handling public matters, not because they saw him as a moral exemplar.
Chen's fellow Sunflower movement leader Lin Fei-fan (林飛帆) said he had known about the incident for a long time. Lin lauded Chen for having the courage to face his own demons, even though he said he did not think Chen's mistakes could be rectified by his engagement in social issues.
Prosecutors who handled the case three years ago said Chen touched a female passenger's breast while she was sleeping on a Taipei-bound Hsin Chu Bus in July 2011, adding that the woman awoke and shouted for help, after which the bus driver stopped the vehicle near Chongqing N Road Sec 3 in Taipei and took Chen to a police station.
Chen was given probation, with the complainant's consent, prosecutors said.
Comments will be moderated. Keep comments relevant to the article. Remarks containing abusive and obscene language, personal attacks of any kind or promotion will be removed and the user banned. Final decision will be at the discretion of the Taipei Times.