Clara Chou, KMT exchange lawsuits
FUNDS FEUD: Clara Chou yesterday wrote an open letter to President Ma Ying-jeou, suggesting that he talk to Benny Hu about allegations of a donation by Ting Hsin
Senhwa Biosciences (生華生物科技) chairman Benny Hu (胡定吾) yesterday was named as an alleged key person involved in the off-the-books donation of NT$200 million (US$6.34 million) that Ting Hsin International Group (頂新國際) allegedly made to President Ma Ying-jeou (馬英九) during one of his election campaigns.
Media personality Clara Chou (周玉蔻) yesterday posted an open letter to Ma on her Facebook page, in which she suggested that Ma talk to Hu and discover the truth about the allegation that his campaign team unlawfully accepted a political donation from Ting Hsin.
Hu was one of the investors in Taiwan depositary receipts issued by Tingyi (Cayman Islands) Holding Corp (康師傅控股), a subsidiary of Ting Hsin, and he also represented Ting Hsin on the board of Taipei Financial Center Corp (TFCC, 台北金融大樓), the firm which operates Taipei 101, Chou said.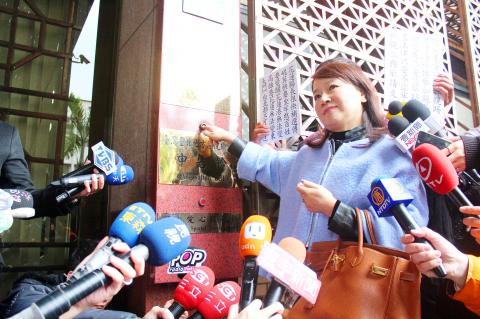 Media personality Clara Chou presses the bell at the entrance of the Taipei District Prosecutors' Office yesterday.
Photo: Chen Wei-tsu, Taipei Times
"That is all I can say. I have done everything possible," Chou wrote, without elaborating on what role Hu had played in the alleged donation.
Chou last week said that she was told by a former National Security Council (NSC) official that the donation was made to Ma's campaign team, but she did not specify which campaign she was referring to.
"Unfortunately, you [Ma] have been unresponsive [on the matter], while on the other hand, Chinese Nationalist Party [KMT] headquarters gave free rein to its spokesperson to threaten, intimidate and defame me," Chou wrote. "That is why I had to give you a clue via this open letter."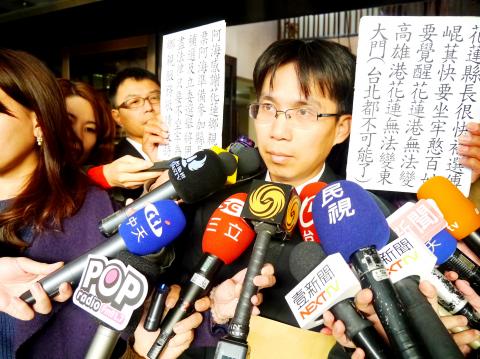 Chinese Nationalist Party (KMT) attorney Hung Wen-jun speaks to reporters in Taipei yesterday about the damages the party is seeking from media personality Clara Chou.
Photo: Chang Hsiao-Ti, Taipei Times
After posting the letter, Chou filed a lawsuit with the Taipei District Prosecutors' Office against Vice President Wu Den-yih (吳敦義), the acting KMT chairman, at 11:30am, complaining of "intimidation" and "infringement of freedom of speech."
Chou said she did not want to end up like naval captain Yin Ching-feng (尹清楓), who was murdered in 1983 after he wrote a report that exposed kickbacks related to the purchase of Lafayette frigates from France.
The allegations that Ma has served as a guardian angel or "men shen (門神)" of the Wei (魏) family, which owns Ting Hsin, emerged when the conglomerate was implicated in a series of adulterated cooking oil scandals involving its subsidiaries ahead of the nine-in-one elections on Nov. 29.
During the election campaign, Wu Tsu-chia (吳子嘉), a political commentator, accused Ma of receiving NT$1 billion from the Wei family during his presidential re-election campaign in 2012, while KMT legislators Alex Tsai (蔡正元) and Hsieh Kuo-liang (謝國樑) said after the election that Ma could not act freely during the cooking oil scandals because of the donations.
Chou said in her letter that she believes that Ma observes the principles of clean governance and that she has never doubted NSC Secretary-General King Pu-tsung's (金溥聰) integrity, adding that "someone within the KMT has been trying to pervert the course of justice."
"The most likely suspect is a member of the KMT's Central Standing Committee handling the party's assets," Chou said, without giving a name.
It is generally believed that Chou was referring to KMT's Deputy Secretary-General Lin Teh-jui (林德瑞), who heads the party's Administration and Management Committee, and who Chou said asked defeated KMT Taipei mayoral candidate Sean Lien (連勝文) to go easy on Ting Hsin during the recent election campaign.
Later yesterday, Lin issued a statement saying that he has filed a lawsuit against Chou to stop her spreading false rumors about him and to defend his reputation.
Lin said he has never accepted political donations from the Wei family and demanded that Chou pay him a NT$2 million indemnity.
The KMT filed a separate lawsuit against Chou, demanding that she pay a NT$3 million indemnity, as her allegations have damaged the party's reputation.
Hung Wen-jun (洪文浚), the KMT's attorney, said the party has also demanded that Chou run an open apology to the party and Lin in four major national newspapers.
Ting Hsin yesterday said that the rumor of an illegal donation to the KMT or Ma's campaign was "groundless and not true."
"It is not suitable for the company to comment further on this issue, since Chou and the KMT have entered into a legal process," Ting Hsin said in a statement.
Ting Hsin said it hopes the public will not confuse political, legal, economic and food safety issues, and look upon them separately.
Comments will be moderated. Keep comments relevant to the article. Remarks containing abusive and obscene language, personal attacks of any kind or promotion will be removed and the user banned. Final decision will be at the discretion of the Taipei Times.