Chu registers for KMT election
ASSETS: Questions about the Chinese Nationalist Party's (KMT) assets and a meeting with Chinese President Xi Jinping greeted the sole candidate for the KMT chairmanship
New Taipei City Mayor Eric Chu (朱立倫) yesterday reiterated a proposal that would put a possible constitutional amendment on improving government accountability to a referendum in 2016, in tandem with a national election.
Chu, the sole candidate for the Chinese Nationalist Party's (KMT) chairmanship election next month, said that many people are dissatisfied with a system of governmental power that they say lacks accountability, and advocated having more young adults and civic groups participate in the political process.
As for which political system should be adopted: "Of course, a parliamentary system is the one favored by most people at present," Chu said, adding that if the amendment were approved in a referendum, it could take effect during the presidential election cycle in 2020.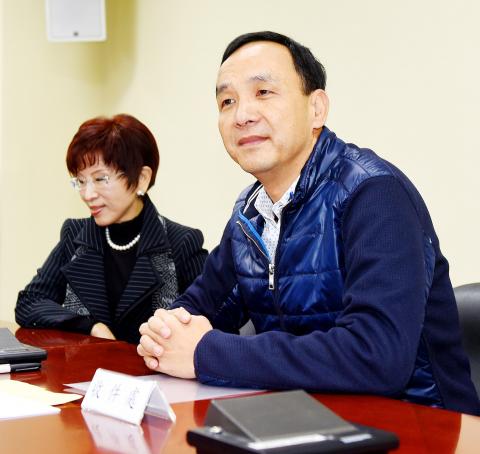 Acting Chinese Nationalist Party (KMT) Secretary-General Hung Hsiu-chu, left, accompanies New Taipei City Mayor Eric Chu as he registers as a candidate for KMT chairman at the party's headquarters in Taipei yesterday.
Photo: Chien Jung-fong, Taipei Times
On the KMT's controversial assets, Chu reiterated that the party must return any ill-gotten assets to the nation, but that assets obtained through normal, legal channels should be used to nurture talent.
The real issue is to make the party's finances and assets transparent, and let all stakeholders monitor them together, he said.
In response to reporters' questions about a potential meeting between him and Chinese President Xi Jinping (習近平), Chu said: "I will talk about this only after I have been elected party chairman," adding that he had not given any thought to the idea before now.
Chu registered to run for party chairman at the KMT headquarters in Taipei yesterday afternoon. He brought more than 106,000 signatures from KMT members backing his bid.
The KMT is scheduled to hold a vote on Jan. 17 to elect a new chairman, following President Ma Ying-jeou's (馬英九) resignation from the post on Dec. 3 in the wake of the party's raft of defeats in the Nov. 29 nine-in-one elections.
Democratic Progressive Party (DPP) Legislator Tsai Chi-chang (蔡其昌) characterized Chu's remarks on questionable KMT assets as a "beautiful — but empty — promise," urging Chu to support legislation on the KMT's illegitimate party assets if he is sincere.
Tsai said that a large part of the KMT's assets should be returned to the nation and the government as an important step in transitional justice.
Tsai added that the KMT should try to solve the assets issue to allow fair interparty competition in the nation, saying that Chu should take concrete action on the issue.
Otherwise, he would be "just another Ma," who vowed more than 100 times to take care of the party assets issue, Tsai said.
"If the issue remains unsolved, there would always be unfair competition between political parties and the KMT would always be a target of public criticism," Tsai said.
Taiwan Solidarity Union Legislator Lai Chen-chan (賴振昌) agreed, calling Chu's promise merely campaign propaganda, as he never showed any concern for the issue — even during his tenure as one of the KMT's vice chairmen.
Lai also disagreed with Chu's proposal to "donate" the party assets in question to the nation or charity, "because the assets were national properties and should be 'returned' to the state, instead."
Conversely, KMT Legislator Lu Hsueh-chang (呂學樟) said he would not support legislation regarding "illegitimate party assets," because the title of the legislative proposal is targeting the KMT.
"Who decides what is legitimate and what is not?" Lu asked. "However, I would support drafting a political party act (政黨法) that applies to all political parties."
Comments will be moderated. Keep comments relevant to the article. Remarks containing abusive and obscene language, personal attacks of any kind or promotion will be removed and the user banned. Final decision will be at the discretion of the Taipei Times.