Xi cautions HK, Macau with 'one China' message
Chinese President Xi Jinping (習近平) yesterday warned Hong Kong and Macau to remember that they are part of "one China," as pro-democracy campaigners in both semiautonomous territories call for free leadership elections.
Dozens of protesters marched through Macau's historic center yesterday afternoon as Xi wrapped up his two-day visit to mark the 15th anniversary of the territory's handover from Portugal — just days after police cleared the last remaining protest sites in neighboring Hong Kong.
Residents of all ages walked in the middle of the road through the historic district shouting: "We want universal suffrage" through megaphones, some wrapped in banners and others with slogans painted across their faces.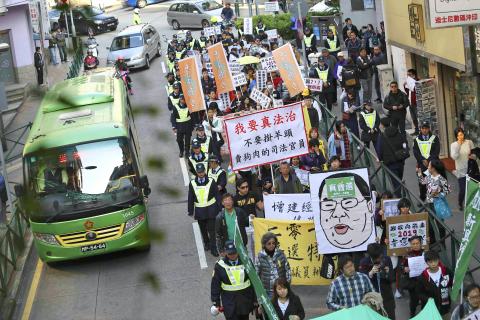 Pro-democracy protesters carry banners and chant slogans in Macau's historic center yesterday.
Photo: EPA
"I am uncertain about Macau's future, so we have to come out to make noise for ourselves," said Mark Pang, a 15-year-old high-school student who held up an open yellow umbrella — the symbol of the Hong Kong democracy movement.
The protest march culminated in a public square where about 100 demonstrators remained in the early evening, though some bystanders were confused by the scene.
"Are these people from Hong Kong?" one asked.
Xi warned both territories against a "misguided approach" in a speech.
"We must both adhere to the 'one China' principle and respect the difference of the two systems," Xi said at the inauguration of Macau Chief Executive Fernando Chui (崔世安), who was selected for a second term by a pro-Beijing committee in August.
"At no time should we focus only on one side to the neglect of the other. This is the only way leading to sound and steady progress. Otherwise, a misguided approach from the beginning, just like putting one's left foot into the right shoe, would lead us to nowhere," Xi said.
He also warned against "external infiltration and interference" to safeguard the stability of Macau. Beijing has accused foreign forces of stirring up the Hong Kong protests.
There were also reports that some visitors and journalists from Hong Kong were denied entry after being told their names were on a blacklist.
Both Macau and Hong Kong enjoy freedoms unseen elsewhere in China — but their leaders are selected by a loyalist committee.
"In the light of Hong Kong's Umbrella movement, I think Macau people should escalate our actions for democracy," local protest leader Jason Chao (周庭希) told reporters.
"We need a democratic political system in which the citizens can hold the officials accountable," Chao said, adding that despite a huge economic boom in the gambling enclave in the past decade, the quality of life for residents has been on the decline, with government officials seen as too close to big business.
Similar discontent over corruption and social inequality partly underpins the Hong Kong movement.
Although Macau's democracy movement is not on the scale of Hong Kong's, the territory saw its largest ever protest in May over proposed cash benefits for retired Macau officials, with 20,000 people.
Xi gave his backing to Hong Kong Chief ExecutiveLeung Chun-ying (梁振英), who he met in Macau on Friday, pledging "full trust" in him after the clearance of protest camps that blocked Hong Kong highways for more than two months.
Xi's visit was also a chance to assert that the territory needs to diversify away from casinos, which have seen revenues dive owing to a national anti-corruption drive and a stuttering economy.
He called on Macau to "promote appropriately diversified and sustainable economic development" during his speech, before leaving the enclave in the late afternoon.
Comments will be moderated. Keep comments relevant to the article. Remarks containing abusive and obscene language, personal attacks of any kind or promotion will be removed and the user banned. Final decision will be at the discretion of the Taipei Times.