US remains committed to sale of warships
The US is committed to helping the nation defend itself and is serious about that commitment, a US Department of State official said on Tuesday when asked about the impact of a potential frigate sale to Taiwan on relations with China.
"We remain committed to helping to ensure that Taiwan maintains the ability to prevent coercion and defend itself, and that is a commitment that we take very seriously," US Assistant Secretary of State for East Asian Affairs Daniel Russel told a Brookings Institution conference on US-China-South Korea relations.
He also said that the sale of four US warships to Taiwan — with two of them expected to be delivered next year — would not seriously impact US-China relations.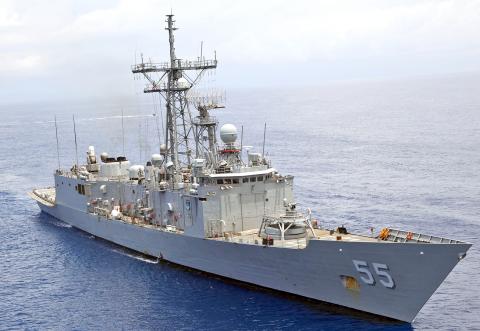 An Oliver Hazard Perry-class guided missile frigate.
Taipei Times file photo
Beijing has repeatedly expressed anger at the sale, accusing the US of "interference" in China's internal affairs, with Chinese Ministry of Foreign Affairs spokesman Hong Lei (洪磊) saying last week that "China is resolutely opposed to this and has already made solemn representations to the US side."
Hong said that Beijing hoped the US Congress would reverse itself on the sale decision "to avoid influencing the development of China-US relations."
Taiwan has budgeted US$176 million for the first two of the frigates and will decide on the other two at a later date.
Asked if the sale of the Oliver Hazard Perry-class guided missile frigates would affect US-China relations — especially military-to-military relations — Russel expressed little concern.
Both houses of the US Congress have agreed to the sale of the 30-year-old frigates and US President Barack Obama is expected to sign legislation permitting the sale in the next few days.
The ships are to replace Taiwan's aging fleet of Knox-class frigates.
Russel said that the US has a "one China" policy, but that it also has "important unofficial relations with Taiwan, and in that regard our policy is guided not only by the 'one China' policy, but also by the Taiwan Relations Act."
He said "significant progress" over the past few years in cross-strait dialogue and agreement was something Washington valued and welcomed.
US policies and goals are aimed at "enhancing stability" across the Taiwan Strait and in the region, Russell said.
Russel praised the quality of the dialogue that the US maintains with Beijing and with the People's Liberation Army and "particularly the quality of dialogue between leaders."
He said the dialogue was a "critical element in ensuring there are no misunderstandings and no misapprehensions about US actions and US intentions."
Russel said that keeping all of this in mind, he was confident that the dialogue and military-to-military cooperation between the US and China would "continue on a straight path."
In his keynote address to the conference, Russel said that the pace of change in Northeast Asia has been accelerating and that while the region is stable relative to other parts of the world, there is no room for complacency.
He said that for decades, the US had supported China's peaceful rise, and had worked to avoid strategic rivalry and manage differences.
Russel said that shifting regional dynamics generated tensions that posed serious risks to stability and prosperity.
"Is the construction of large-scale man-made outposts and continual encroachment by ships, planes and oil-drilling rigs going to be the way that Asians resolve maritime boundaries?" he asked.
"The sharpening of tensions over maritime boundaries underscores the importance of maintaining a regional system of adherence to rules, not adhesion to rocks," Russell said.
He said the region needed a system where claims were based on international law, not a sense of entitlement or muscle.
Additional reporting by CNA
Comments will be moderated. Keep comments relevant to the article. Remarks containing abusive and obscene language, personal attacks of any kind or promotion will be removed and the user banned. Final decision will be at the discretion of the Taipei Times.