Hong Kong protest leaders refused entry to mainland
BLOCKED: The leaders found that their travel documents had been invalidated, while police prepared to clear protest sites around the territory
Hong Kong student leaders of pro-democracy protests were blocked from flying to Beijing as they sought to meet with Chinese leaders to press their case for open elections for the territory's chief executive in 2017.
Three members of the Hong Kong Federation of Students were told by airline personnel that they could not board because Chinese authorities canceled their so-called "home return permits," federation Secretary-General Alex Chow told reporters at Hong Kong International Airport yesterday, in comments broadcast live on Cable TV Hong Kong.
The students had planned to seek talks with Chinese officials on their own after requests to former Hong Kong chief executive Tung Chee-hwa (董建華) and Rita Fan (范徐麗泰), a Hong Kong deputy to China's National People's Congress, to arrange a meeting apparently went unheeded. The federation wants Beijing to reverse its decision to vet candidates for Hong Kong's chief executive election in 2017, the group said in a statement on Facebook.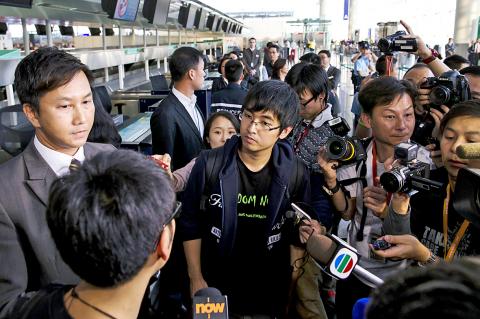 An airline staff member, left, speaks to Hong Kong Federation of Students leader Alex Chow, center, after he was refused on board a Beijing-bound plane at the Hong Kong International Airport yesterday.
Photo: Reuters
Hong Kong Police Commissioner Andrew Tsang (曾偉雄) yesterday said that his force would help clear protest sites that have blocked main roads and disrupted the territory for more than seven weeks after a judge dismissed demonstrators' appeals against orders to remove them.
The street occupations are illegal and protesters should not interfere when the removal of blockades begins, Tsang said in a press briefing broadcast live on Cable TV Hong Kong. He did not say when that would be.
Hong Kong High Court Chief Judge Andrew Cheung Kui-nung's (張舉能) ruling means that bailiffs can remove obstructions at two protest sites in Mong Kok on the north side of Victoria Harbour. An injunction was also granted against protesters in Admiralty, where the city's government headquarters are located. Under the injunctions, police are authorized to assist in the clearing and to arrest anyone who interferes.
The ruling risks reigniting violent clashes between police and protesters as government talks with student leaders are stalled. Chinese President Xi Jinping (習近平) last week expressed support for Hong Kong Chief Executive Leung Chun-ying (梁振英) while hosting the APEC summit in Beijing.
The protests were sparked by China's decision to control the nomination process for the city's first leadership election in 2017, issuing the biggest challenge that Hong Kong has posed for China since its resumption of sovereignty over the territory in 1997.
The protest movement that has occupied Hong Kong's streets in main commercial districts since September is losing momentum amid dissent among its leaders and dwindling crowds. Hong Kong Chief Secretary Carrie Lam (林鄭月娥) has ruled out more talks with the students.
The Mong Kok injunctions were brought by taxi and bus drivers who said that their business has been impaired by the blockage of key roads by the students.
Comments will be moderated. Keep comments relevant to the article. Remarks containing abusive and obscene language, personal attacks of any kind or promotion will be removed and the user banned. Final decision will be at the discretion of the Taipei Times.