Ko Wen-je to stop accepting campaign donations
END-GAME GAMBLE: The independent Taipei mayoral hopeful also played down remarks by his spokesman about the potential number of votes he would garner
Independent Taipei mayoral candidate Ko Wen-je's (柯文哲) campaign office yesterday said that it would stop taking any donations by Saturday, as team calculations suggest it has sufficient funds to run the campaign until election day on Nov. 29.
"From August until the end of last month, the campaign office has spent a total of NT$43 million [US$1.4 million], while receiving donations of NT$89 million," Ko's campaign executive director Yao Li-ming (姚立明) told a press conference held to release the latest financial statements.
"Since NT$89 million exceeds the legal maximum amount allowed for a Taipei mayoral campaign, which is NT$87 million, Ko has decided to stop taking donations from now on — that is, we will stop calling for donations and will turn people away who come to us to make donations," he said.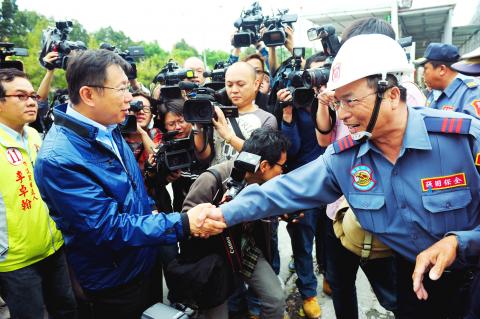 Independent Taipei mayoral candidate Ko Wen-je, left, shakes hands with a security guard at the construction site of the Taipei Dome yesterday.
Photo: Lo Pei-der, Taipei Times
As for online donations, Yao said that since it would take time to close down the system, the online donation system would not be closed until Saturday.
"This might be the first time in Taiwan's electoral history that a candidate has decided to stop taking donations," Yao said.
"The campaign funds we have now are sufficient for us to operate until election day. I think we might end up spending less than NT$80 million overall," Ko said. "It is always good for candidates to cut down on campaign spending, because if you take a lot of donations from businesses, how could you be fair when you are elected?"
"Cutting down on campaign spending is important for clean politics," he added.
Ko went on to say that so far, the only large expenditure expected would be the parade on Nov. 23, which would likely cost about NT$2 million, adding that he would give an extra month of salary to his campaign staff, "so that they would have money to spend while they look for new jobs."
Asked whether he plans to buy TV ads, Ko said he would prefer not to.
"However, I will discuss the issue with my campaign team," he added.
Ko said he would not set up a foundation with what might be left from his campaign fund; rather, he would return the money to the public. However, he did not elaborate how he would do so.
Separately yesterday, Chien Chen-yu (錢震宇), spokesperson of Chinese Nationalist Party (KMT) Taipei mayoral candidate Sean Lien's (連勝文) campaign, described the announcement as "pure electioneering," saying: "None of the information showed by Ko's staff was certified by any official agencies."
Meanwhile, in other news, Ko yesterday played down recent remarks by Yao that he would eventually garner 800,000 votes, beating Lien by 200,000.
Speaking to a gathering of supporters on Sunday, Yao predicted that about 20 percent of KMT supporters would vote for Ko, so in the end, Ko would capture about 800,000 votes — exceeding former president Chen Shui-bian's (陳水扁) 690,000 votes when he was elected Taipei mayor in 1994 and Taipei Mayor Hau Lung-bin's (郝龍斌) 790,000 votes in 2010 — while Lien would receive about 600,000 votes.
"I think he [Yao] was being too optimistic, because Lien has not made all his efforts yet," Ko said yesterday when asked to comment on Yao's remarks. "He was speaking to a small group of supporters and tried to make them confident about the election outcome."
Additional reporting by Chen Yen-ting
Comments will be moderated. Keep comments relevant to the article. Remarks containing abusive and obscene language, personal attacks of any kind or promotion will be removed and the user banned. Final decision will be at the discretion of the Taipei Times.