Police search Xfuture.org after gambling accusation
DON'T BET ON IT: The election forecasting Web site said it is in no way involved in gambling and that it suspects the search is politically motivated, but did not elaborate
Police yesterday searched the offices of Xfuture.org, also known as the Exchange of Future Events (未來事件交易所), following allegations that the collaboration between the Center for Prediction Markets at National Chengchi University and xPredict Ltd has been running underground gambling on the Nov. 29 elections.
Xfuture chief executive officer Anson Hung (洪耀南) denied the accusation and said the motivation for the search was political.
The election forecast Web site is known for its relatively high precision and bases its predictions on "prediction markets," in which participants "buy" and "sell" contracts on future incidents based on the idea of a futures exchange.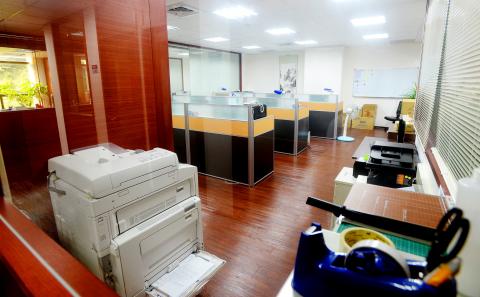 The office of xPredict Ltd in New Taipei City's Xizhi District is shown yesterday.
Photo: Lin Cheng-kung, Taipei Times
Police searched the company's offices in Taipei's Songshan District (松山) and New Taipei City's Xizhi District (汐止) after the Taipei District Prosecutors' Office on Tuesday issued two warrants.
The prosecutors' office said police found online information indicating that the organization has been facilitating bets on the Nov. 29 nine-in-one elections. The investigation is ongoing, it added.
The company released a press statement soon after the search, calling it "politically motivated."
"During the 2012 presidential election period, the Web site was forced to close down by the Central Election Commission [CEC] and this year, we have so far received plenty of official documents from the CEC and local election commissions expressing their concerns. We are now a private prediction market in which only registered members can participate, and still we have been subjected to a search over suspicions of gambling. We strongly suspect that the allegation is politically motivated and with a political aim," Hung said.
Hung said it "might not be defamation, but we strongly suspect that there is a political motive behind this."
When asked what kind of political motivation it could be, Hung did not respond directly, but said that prediction markets are open, commonly seen abroad and legal insofar as opinion polls — according to which predictions are also made — are allowed.
When questioned by Democratic Progressive Party Legislator Pasuya Yao (姚文智) yesterday in the legislature's Internal Administration Committee, Criminal Investigation Bureau Commissioner Hu Mu-yuan (胡木源) said that whether the site's operators had broken the law had to be determined by the prosecutors.
Hu said the police were tipped off that the Web site's registered members are offered 500 points upon registering and can be awarded with cash if their predictions prove correct. The police, based on the Web site's content, asked the prosecutors to issue a search warrant, Hu said.
Tung Chen-yuan (童振源), a professor at National Chengchi University's Graduate Institute of Development Studies and director of the university's Center for Prediction Markets, said that while he could not pinpoint the kind of political factors that might be lurking behind the incident without further evidence, "since the Web site has been in commercial operation for at least four years, we cannot help but suspect it had to do with the year-end nine-in-one elections."
When asked about the cash-as-award charge raised by Hu, Tung said rewards are given to engaged participants (NT$5,000 at most according to the Web site), but members' points cannot be exchanged for cash.
"I know someone who has accumulated at least 100 million points in his account, but they cannot be exchanged for cash," he said.
He said law enforcers might not understand the workings of prediction markets sufficiently, as these are a relatively new social science method used for predictions.
"We are quite clear about the nation's regulations on gambling and would not have gotten ourselves ensnared in a gambling controversy," he said.
Comments will be moderated. Keep comments relevant to the article. Remarks containing abusive and obscene language, personal attacks of any kind or promotion will be removed and the user banned. Final decision will be at the discretion of the Taipei Times.