Turkey secures release of hostages held by IS in Iraq
Turkish intelligence agents brought 46 hostages seized by Islamic State (IS) militants in northern Iraq back to Turkey yesterday after more than three months in captivity, in what Turkish President Recep Tayyip Erdogan described as a covert rescue operation.
Security sources said the hostages had been released overnight in the town of Tel Abyad on the Syrian side of the border with Turkey, after being transferred from the eastern Syrian city of Raqqa, a stronghold of IS, formerly known as the Islamic State of Iraq and the Levant.
Officials declined to give details of the rescue operation.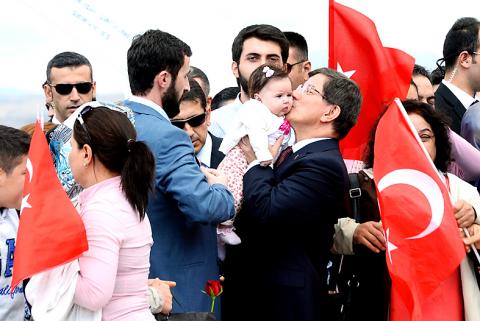 Turkish Prime Minister Ahmet Davutoglu (R) greets Turkish hostages seized by Islamic State militants from Mosul consulate in Northern Iraq after they were released, in Ankara, Turkey,yesterday.
Photo: EPA
The hostages, who included Turkey's consul-general, diplomats' children and special forces soldiers, were seized from the Turkish consulate in Mosul on June 11 during a lightning advance by the Sunni insurgents.
Family members rushed to the steps of the plane which brought the freed captives to the Turkish capital, Ankara, from the southern city of Sanliurfa, where they had earlier been welcomed by Turkish Prime Minister Ahmet Davutoglu.
Groups of supporters waved Turkish flags as Davutoglu hugged the consul-general and members of the diplomats' families before addressing the crowd from the roof of a bus, saying the authorities had worked tirelessly for the hostages' release.
"I thank the prime minister and his colleagues for the pre-planned, carefully calculated and secretly conducted operation throughout the night," Erdogan said in a statement. "MIT [the Turkish intelligence agency] has followed the situation very sensitively and patiently since the beginning and, as a result, conducted a successful rescue operation."
Speaking to reporters earlier in Azerbaijan before cutting short an official visit, Davutoglu declined to give details on the circumstances of the hostages' release, saying only that it was carried out "through MIT's own methods."
Turkish officials had repeatedly said efforts were under way to secure their freedom and that the hostages were in good health, but had declined to comment further.
Three non-Turkish civilians who were taken in the same attack were also released in the operation yesterday, a foreign ministry official said.
Comments will be moderated. Keep comments relevant to the article. Remarks containing abusive and obscene language, personal attacks of any kind or promotion will be removed and the user banned. Final decision will be at the discretion of the Taipei Times.