New Taipei's tobacco test on students sparks outrage
NO DRUGS TOO: Groups opposing tests for smokers questioned a proposal by the education ministry to make drug tests part of school physical checkups
The Taiwan Smokers' Rights Association yesterday accused the New Taipei City Government of breaking the law and violating students' rights with its request that junior and senior-high schools conduct tobacco tests on suspected smokers.
"It is not about 'you have nothing to worry about if you don't smoke,' the problem is that the [city's] Education Bureau and the school have no right to ask students to take a tobacco test," association president Chen Chi-an (陳麒安) told reporters and bureau officials during the protest at New Taipei City Hall.
"It does not matter if the student tested positive or negative — such a test is simply unlawful," he said.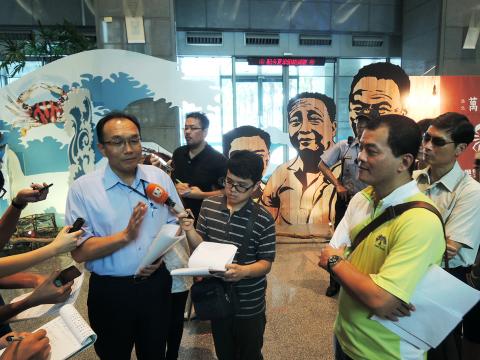 Peng Yun-hua, left, New Taipei City's campus security office director, talks to reporters yesterday at New Taipei City Hall about the city's request that junior and senior-high schools conduct tobacco tests on suspected smokers.
Photo: Weng Yu-huang, Taipei Times
The bureau announced early this week that it has allocated 125 tobacco detectors to junior and senior-high schools across the city, and asked school administrators and teachers to conduct tobacco tests on students who are known to be smokers or suspected to be smokers, and place smokers on quit-smoking programs.
Chen said the law mandates that such tests can only be conducted if there is a warrant from the court or a prosecutor.
"We hereby urge students to refuse to take the test when asked by their school, and if the school threatens to penalize them for refusing, they can file a lawsuit against the school for breach of freedom," he said.
Chen added that the group would provide legal counsel or assistance to students if needed.
Peng Yun-hua (彭允華), the bureau's Campus Security Office director, defended the policy, saying it was entirely legal and well-intentioned.
"According to relevant laws, people under the age of 18 are prohibited from smoking. Moreover, it is a known fact that smoking is harmful to health; therefore, the policy is aimed at helping students quit smoking if they are already smokers," Peng told reporters at a press conference.
"As to the legality issue, a warrant from the court or a prosecutor is only mandatory for conducting intrusive tests, but a tobacco test only requires the student to blow into the device, and so a warrant is not needed," he said.
Asked if students might be penalized for refusing to take the test, Peng said that he hopes that "students will not refuse."
He added that the bureau has instructed schools to gently persuade them and that penalties would only be used as a last resort.
Separately, the Humanistic Education Foundation also voiced its opposition to the tobacco tests, as well as a request from Minister of Education Wu Se-hwa (吳思華) to add drug tests to routine physical exams in school.
The foundation said in a statement that the ministry should not act as if it is the National Police Agency, and that it should not treat students like suspects.
Comments will be moderated. Keep comments relevant to the article. Remarks containing abusive and obscene language, personal attacks of any kind or promotion will be removed and the user banned. Final decision will be at the discretion of the Taipei Times.