Anti-graft agency raids Jimmy Lai's HK home
Anticorruption officers in Hong Kong yesterday raided the home of Jimmy Lai (黎智英), a media magnate and outspoken critic of Beijing who has supported pro-democracy activists through his publications and with donations.
Hong Kong has been deeply polarized and hit by protests over how its next leader is to be chosen in 2017 — by universal suffrage, as pro-democracy campaigners want, or from a list of pro-Beijing candidates.
The raid on Lai's home in an affluent avenue in Kowloon District came after media reports on Wednesday said China had decided to limit nominations for the 2017 election to a handful of candidates loyal to Beijing, which will likely escalate protests by pro-democracy activists.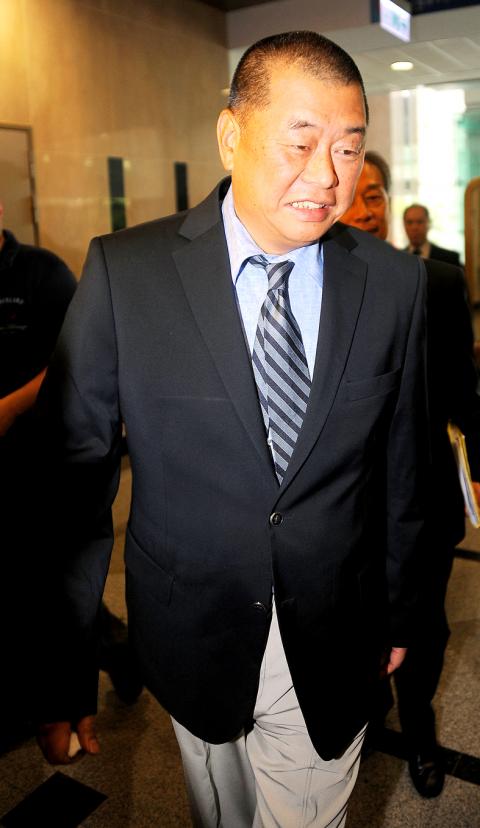 Next Media Group chairman Jimmy Lai
Photo: Taipei Times
"The timing is not uncoincidental with [this week's move] in our opinion. If you wanted to cool things down, this is the last thing you would do," Lai's top aide and spokesman Mark Simon said.
China's National People's Congress is expected to announce its decision on Hong Kong's future on Sunday.
Simon said five anti-graft officials had also searched his home.
The territory's Independent Commission Against Corruption (ICAC) said later in a statement it had searched three residences and the office of a lawmaker as part of a bribery investigation.
It said it also served a "statutory notice" to the secretary-general of a political party. It did not identify the people or the party, and said no arrests had been made.
Lai owns Hong Kong-based media company Next Media Ltd (壹傳媒), which publishes Next Magazine and the Apple Daily newspaper.
Lai spoke briefly to reporters outside his home after the raid, confirming that ICAC officials had left, but he declined to elaborate.
Trade in Next Media Ltd was halted after the stock fell as much as 6 percent.
This month, e-mails leaked to Hong Kong newspapers gave details of payments that Lai made to the pro-democracy Occupy Central movement.
The group has threatened to shut down Hong Kong's financial district with protests if Beijing does not allow the 2017 election to be fully democratic. It is not illegal in Hong Kong to receive political donations.
The Apple Daily reported that anti-graft officers had also visited the home of Labour Party lawmaker Lee Cheuk-yan (李卓人) yesterday and removed bank documents. Lee was among activists arrested on July 2 at a protest billed as a rehearsal for the Occupy Central movement.
A copy of a search warrant seen by Reuters gave permission for the ICAC to look for items including bank and electronic records related to payments or donations made by Lai to Labour Party officials, including Lee.
This year, Next Media said HSBC Holdings and Standard Chartered had pulled millions of dollars worth of advertisements from Apple Daily after they were pressured by Beijing.
HSBC and Standard Chartered said the decision to pull the advertising was for commercial reasons.
In July last year, Apple Daily said tens of thousands of copies of two editions of the newspaper had been torched by masked men at distribution points.
Lai's home was also rammed by a car and the assailants left a machete, an axe and a threatening message in the driveway, it said.
Comments will be moderated. Keep comments relevant to the article. Remarks containing abusive and obscene language, personal attacks of any kind or promotion will be removed and the user banned. Final decision will be at the discretion of the Taipei Times.