Chang questioned as search warrant approved
Former Mainland Affairs Council (MAC) deputy minister Chang Hsien-yao (張顯耀) was yesterday summoned for questioning on suspicion of leaking state secrets related to cross-strait negotiations with China, while the Ministry of Justice's Investigation Bureau approved a search warrant for Chang's residence in Taipei's Dazhi District (大直) and six other locations.
Taipei prosecutors also questioned three other people, one of whom was reportedly Chang's assistant, Chen Hung-yi (陳宏義).
They were questioned as witnesses.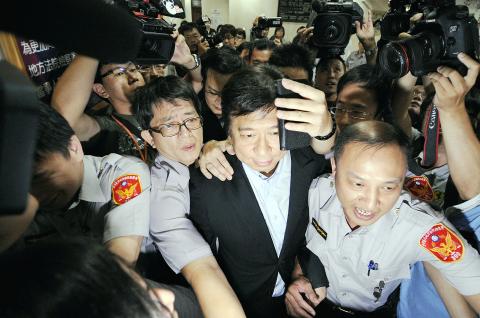 Former Mainland Affairs Council deputy minister Chang Hsien-yao, center, enters the premises of the Taipei District Prosecutors' Office in Taipei yesterday.
Photo: Chen Chih-chu, Taipei Times
The questioning was still ongoing at press time last night.
Taipei District Prosecutors' Office spokesman Huang Mo-hsin (黃謀信) refused to reveal the identities of the three witnesses.
The office had summoned the council's economic affairs department director Lee Li-jane (李麗珍), planning department director Hu Ai-ling (胡愛玲) and politics and legal affairs department director Yeh Ning (葉寧) on Tuesday night for questioning after it found discrepancies in some of the available data.
A building housing former Mainland Affairs Council deputy minister Chang Hsien-yao's residence in Taipei's Dazhi areas is pictured yesterday.
Photo: Chang Chia-ming, Taipei Times
Prosecutors yesterday said that Chang has been restricted from leaving the country since Friday last week, adding that the case has been reclassified from code Ta (他) to code Zhen (偵).
According to legal practice, filing cases under code Ta indicates that prosecutors consider the person's conduct to be suspect, but lack sufficient evidence to prove that the person is a criminal. Code Zhen indicates that legal grounds for suspicion have been established, but not enough to lay charges.
Sources also said that the national security investigators had discovered Chang leaking secrets three years ago, adding that the Mainland Affairs Council's proof came from a wiretap on Chang.
If allegations of leaking secrets are substantiated, the district prosecutors' office would continue the investigation if the secrets did not involve national security, the sources said, but the case would be forwarded to the Taiwan High Court if the secrets are confirmed to be linked to national security.
Separately, on questions of whether the national security system had legally obtained permission to wiretap Chang, Taiwan High Court spokesman Tsai Chung-tun (蔡炯燉) said the case had been deemed top secret and only the judge who approved the wiretap knew about the matter.
Tsai added that the court could not offer any other answer even if the queries came from the Control Yuan or the Legislative Yuan.
The concern over illegal wiretapping stemmed from the Special Investigation Division's alleged wiretapping of the Legislative Yuan switchboard and multiple legislators during what was deemed a political scheme to oust Legislative Speaker Wang Jin-pyng (王金平) from his post in September last year by President Ma Ying-jeou (馬英九).
Meanwhile, Huang said Chang has refused to submit to questioning by the Investigation Bureau and stated he would answer only to the district prosecutors' office, while the other three witnesses were making their statements at the bureau.
The office does not rule out filing a request to detain Chang, Huang said.
Additional reporting by Lin Ching-chuan, Chien Li-chung, Yang Kuo-wen and Peng Hsien-chun
Comments will be moderated. Keep comments relevant to the article. Remarks containing abusive and obscene language, personal attacks of any kind or promotion will be removed and the user banned. Final decision will be at the discretion of the Taipei Times.