China car-parts factory blast kills at least 65
An explosion killed at least 65 people and injured more than 120 at a factory in China that makes wheels for US carmakers, including General Motors Co, state media said, as the country suffered its worst industrial accident in a year.
Chinese media outlets cited the government as saying that the blast in the wealthy eastern province of Jiangsu occurred at about 7:30am yesterday in Kunshan City, after an explosion ripped through a workshop that polishes wheel hubs.
An initial investigation suggested that the blast at Kunshan Zhongrong Metal Products Co Ltd (昆山中榮金屬) was caused by negligence after a flame was lit in a dust-filled room, Xinhua news agency said.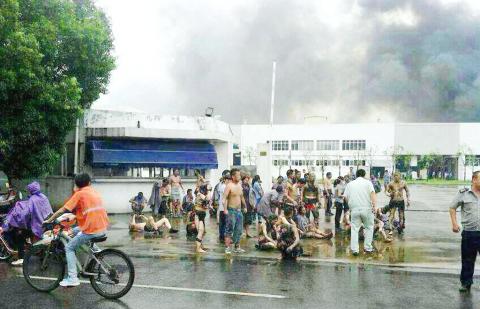 A picture taken with a mobile phone shows injured people waiting for medical help after an explosion at an automotive parts factory that supplies General Motors in Kunshan, Jiangsu province, China, yesterday. At least 65 people were killed in the morning blast and over 100 injured.
Photo: EPA
Kunshan Zhongrong Metal Products is a company run by Taiwanese Wu Chi-tao (吳基滔), who serves as the company's chairman, according to a report by the Chinese-language United Evening News yesterday. The company, which has US$8.8 million in registered capital, has 450 workers in China, the report said.
Two officials from Kunshan Zhongrong have been held by authorities, Xinhua reported, citing an unnamed government source.
Images online and on television showed large plumes of black smoke billowing from a white low-rise building. Many of the injured, who appeared badly burnt and in scorched clothing, were shown laying on wooden pallets and being stretchered on to trucks, public buses and ambulances.
At the workshop where the blast occurred, television reports showed images of wrecked walls and heavy machinery that had been hurled through the window.
Beijing said online that Chinese State Councilor Wang Yong (王勇) was heading to the site at the request of Chinese President Xi Jinping (習近平) and Chinese Premier Li Keqiang (李克強).
Kunshan Zhongrong could not be reached for comment.
Television reports said that there were more than 200 workers at the site when the explosion struck, and 45 died immediately.
No Taiwanese nationals were reported dead in the explosion and the cause of the incident is still under investigation, Chinese media reports said.
The Straits Exchange Foundation (SEF), Taiwan's semi-official body for handling cross-strait exchanges, extended condolences later in the day.
SEF spokesman Ma Shaw-chang (馬紹章) said the foundation would do everything it could to help the firm.
He said that Wu was "very upset" about the incident, but has not yet asked for assistance from Taiwan.
The foundation said it has called its Chinese counterpart, the Association of Relations Across the Taiwan Straits, to express sympathy.
Comments will be moderated. Keep comments relevant to the article. Remarks containing abusive and obscene language, personal attacks of any kind or promotion will be removed and the user banned. Final decision will be at the discretion of the Taipei Times.