Most people favor ban on China 4G base stations: poll
Nearly 60 percent of Taiwanese support a full government ban on 4G telecommunication service operators using base stations made by Chinese manufacturers over concerns about national security, a survey by the Digital Convergence Development Association showed yesterday.
The survey also found that about 70 percent of respondents are concerned about national security risks from 4G operators using Chinese telecom facilities, and 69 percent are worried that Beijing could obtain information on Taiwan's telecom infrastructure through Taiwanese businesspeople in China, or other methods.
Overall, the survey showed that about 58 percent of those polled have no confidence in the government's ability to fend off cyberattacks from China or other countries.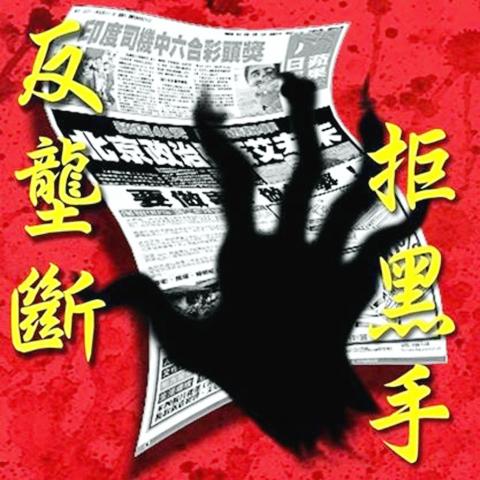 An image expresses opposition to the monopolization of media in this undated screengrab. The Digital Convergence Development Association has said that almost 70 percent of the public support the creation of legislation against media monopolization.
Image taken from the Youth Alliance Against Media Monsters' Facebook page
The figure was 7.1 percentage points higher than that recorded in the survey that the association conducted in December last year.
The public's attitude toward local telecom operators using China-made 4G facilities was about the same as the last survey, with the difference being less than 2 percentage points.
The issue of whether telecom carriers should be allowed to use telecom facilities made in China came to the public's attention earlier this year after Hon Hai Group (鴻海集團) chairman Terry Gou (郭台銘) threatened to withdraw the group's investment in Taiwan, stop paying taxes and move overseas if the Taiwanese government failed to provide a reasonable explanation why he could not use base stations produced by Chinese company Huawei Technologies (華為).
The survey was also designed to identify if there had been any shift in attitude toward cable television, telecom services and the media in general.
Among the poll's significant findings, about 74 percent of respondents said that public opinion in Taiwan was monopolized by certain media groups, up 13.3 points from the previous survey.
While 45 percent said they oppose any form of government funding in television, 44.5 percent said they support government funding to raise programming quality.
Commenting on the findings, Weber Lai (賴祥蔚), a professor at National Taiwan University of the Arts' radio and television department, said he was horrified at the dramatic increase in the way people perceive the monopolization of public opinion in Taiwan.
The result "is a bit different from what I have observed," Lai said.
"I suggest that the survey next time ask respondents who they think is monopolizing public opinion. It may be that they mean an oligopoly, not a monopoly," Lai said.
Christy Chiang (江雅綺), an assistant professor at National Taipei University of Technology, said that the survey showed that more people support restricted government funding to improve the quality of programming, which is very different from 10 years ago.
While 4G operators are seeking more freedom in choosing whatever facilities they see fit, they are simultaneously restricted by public concern for information security, she said.
"Instead of worrying that the government will monopolize public opinion, they now care more that the same thing could be done through any private group," she said.
Comments will be moderated. Keep comments relevant to the article. Remarks containing abusive and obscene language, personal attacks of any kind or promotion will be removed and the user banned. Final decision will be at the discretion of the Taipei Times.