Israeli strikes on Gaza, rocket fire break lull in fighting
END TO 'QUIET': The fighting resumed as the UN Security Council called for an immediate humanitarian ceasefire, and as Muslims marked the end of Ramadan
Israeli jets struck three sites in Gaza yesterday after a rocket was launched at Israel, the military said, disrupting a relative lull in the war-torn territory at the start of a major Muslim holiday.
The strikes followed an almost 12-hour pause in fighting and came as international efforts intensified to end the three-week war between Israel and Hamas.
The UN called for an "immediate" ceasefire in the conflict that has already killed more than 1,030 Palestinians, 43 Israeli soldiers and three civilians on the Israeli side.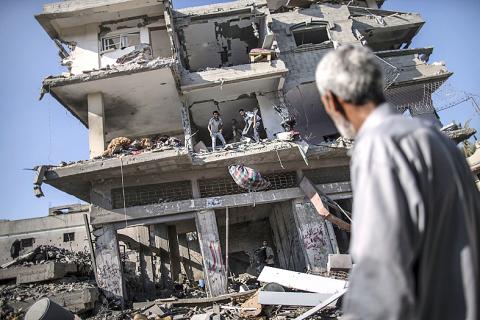 A Palestinian looks at people collecting items and belongings they found in the rubble of a destroyed building on Sunday in the Shejaiya residential district of Gaza City as families returned to find their homes ground into rubble by relentless Israeli tank fire and air strikes.
Photo: AFP
Israel's military said it struck two rocket launchers and a rocket manufacturing facility in central and northern Gaza after a rocket hit southern Israel earlier in the day. The rocket caused no damage or injuries.
At least two more Palestinians were killed yesterday.
A four-year-old boy died when tank shells hit his family's house in Jabaliya, in the northern Gaza Strip, Gaza health officials said.
Another person was killed by tank shelling in a separate incident, also in Jabaliya.
Earlier, the Israeli military said it had not carried out any attacks in Gaza since 9:30pm on Sunday, but that troops on the ground were pressing on with efforts to destroy the cross-border tunnels constructed by Hamas for attacks inside Israel.
Also, the Israeli military opened artillery fire on Beit Lahiya in northern Gaza in response to the rocket fired at Ashkelon, the office of Israel's military spokesman said.
"Quiet will be met with quiet," the office statement said.
The military said eight rockets had been fired at Israel since midnight.
As Muslims began celebrating the Eid al-Fitr holiday yesterday that marks the end of the fasting month of Ramadan, there was fear and mourning instead of holiday cheer in the Gaza Strip.
Palestinian families huddled inside their homes, fearing more airstrikes, while those who came to a cemetery in Gaza City's Sheik Radwan neighborhood to pay traditional respects at their ancestors' graves gathered around a large crater from an airstrike a week ago that had broken up several graves.
In New York, an emergency meeting of the UN Security Council called for "an immediate and unconditional humanitarian ceasefire."
And while it was the council's strongest statement yet on the Gaza war, it was not a resolution and therefore not binding.
Palestinian UN Ambassador Riyad Mansour did not hide his disappointment.
He said the council should have adopted a strong and legally binding resolution a long time ago demanding an immediate halt to Israel's "aggression," providing the Palestinian people with protection and lifting the siege in the Gaza Strip so goods and people can move freely.
"You cannot keep 1.8 million Palestinian civilians in the Gaza Strip in this huge prison," Mansour told reporters. "That is a recipe for disaster. It is inhumane, and it has to be stopped and it has to be lifted."
Comments will be moderated. Keep comments relevant to the article. Remarks containing abusive and obscene language, personal attacks of any kind or promotion will be removed and the user banned. Final decision will be at the discretion of the Taipei Times.