Woman allegedly admits killing man, chopping him up
The case of a missing Greater Taichung factory owner yesterday became a homicide investigation and police said their primary suspect admitted killing the man.
Huang Jingwen (黃靖雯), a 46-year-old Chinese woman, has reportedly admitted murdering the 36-year-old Lan Kun-yu (藍坤俞), whose return to his apartment building on Sunday morning was captured by closed-circuit TV (CCTV) cameras. He has not been seen since.
Police said that after detaining Huang for questioning for more than 24 hours, she confessed at 10am yesterday.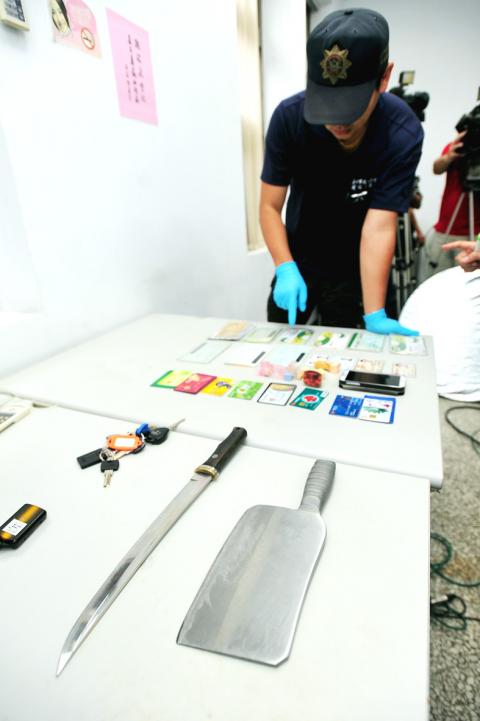 A Greater Taichung police officer yesterday examines the knives allegedly used by Huang Jingwen to kill and dismember her boyfriend on Sunday.
Photo: Liao Yao-tung, Taipei Times
They said Huang had claimed that Lan was deeply in debt and suffered from manic depression. She initially told them she had removed her belongings from his apartment on Sunday because she wanted to break up with him.
When asked about cuts on one of her wrists, Huang told police that she had cut herself while cooking.
Police said they became suspicious of Huang after CCTV footage showed her entering and leaving Lan's building four times on Sunday without removing her motorcycle helmet, face mask and jacket.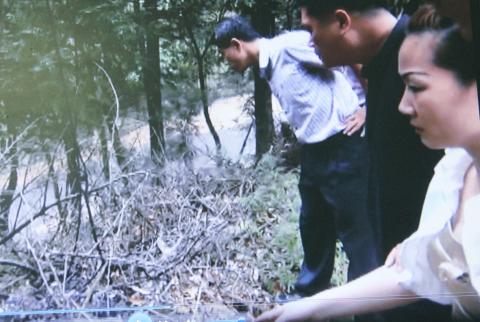 Chinese woman Huang Jingwen, right, yesterday shows police where she allegedly buried the remains of her boyfriend.
Photo: CNA
A search of Huang's workplace turned up the clothing she had been wearing in the footage and the bags she was carrying, police said.
Police returned to Lan's apartment for a second time at 3am yesterday to search for evidence and review the CCTV footage to see if Lan had left the building.
Investigators said the only way out of the building was by walking past the front desk in the lobby or leaving from the underground garage, and both areas are covered by CCTV cameras.
According to police, Huang said Lan had started his factory two years ago and asked her to invest NT$1 million (US$33,100) in the business and act as guarantor for NT$15 million in loans.
Police said Huang told them Lan had promised her a NT$200,000 return on each NT$1 million invested, and shares in the company if it did well.
He had not made good on his promises, she reportedly said.
They said Huang has admitted buying a large knife and getting sleeping pills from a local medical clinic. They said she told them she gave Lan the sleeping pills when he came home on Sunday and decapitated him.
Huang reportedly said she dismembered Lan's body, wrapping the six pieces in spare clothing and putting them into bags that she later loaded in a rental car.
Police said Huang told them she drove to Shihkang District (石岡), burned the body parts and buried what was left. She allegedly hid the murder weapon in a Fengyuan District (豐原) motel.
Comments will be moderated. Keep comments relevant to the article. Remarks containing abusive and obscene language, personal attacks of any kind or promotion will be removed and the user banned. Final decision will be at the discretion of the Taipei Times.