Chinese media outlet levels racial slur at US envoy
'FARMER AND VIPER': There was widespread public condemnation in China after US ambassador Gary Locke was called a 'rotten banana' whose ancestors would expel him
A major Chinese government news service used a racist slur to describe the departing US ambassador in an editorial on Friday that drew widespread public condemnation in China.
The article — which called US Ambassador to China Gary Locke a "rotten banana," a guide dog for the blind and a plague — reflected Chinese nationalists' acute loathing toward the first Chinese-American to have been Washington's top envoy to Beijing.
Locke's ethnic background particularly interested the Chinese government and people.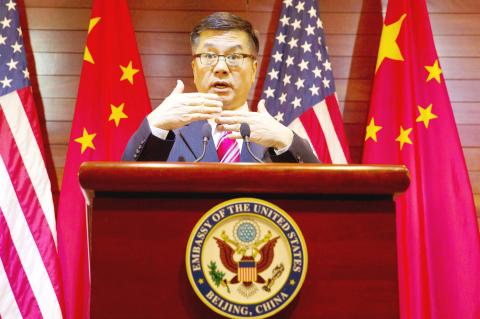 US Ambassador to China Gary Locke speaks during a farewell press conference at the US embassy in Beijing on Thursday.
Photo: AFP
Locke won public applause when he was seen carrying his own bag and flying economy class, but he drew criticism from Beijing as his demeanor was an unwelcome contrast to Chinese officials' privileges and entitlements.
In his 2.5 years in Beijing, Locke oversaw the defusing of two delicate diplomatic episodes when a powerful police chief fled to a US consulate and later when a persecuted blind activist sought shelter in the embassy. The Chinese public also credit him with making them realize the harm of the tiny pollutant PM2.5 and severity of China's foul air by posting the embassy's hourly readings of air quality.
Meanwhile, the editorials in Chinese state media turned from initial reservation to unfriendliness, to the insolence of the final piece.
"I think it shows the unfriendliness and impoliteness by the Chinese government toward Gary Locke, and it is without the manners and dignity of a major power," legal academic Hao Jinsong (郝勁松) said. "It is unfitting of China's status as a diplomatic power. As a Chinese, I am very angry and feel ashamed of it."
The editorial, Farewell, Gary Locke, took direct aim at Locke's identity as a third-generation Chinese-American, calling him a "banana" — a racial term for Asians identifying with Western values, despite their ethnicity.
"But when a banana sits out for long, its yellow peel will always rot, not only revealing its white core, but also turning into the stomach-churning color of black," the editorial said.
The author, Wang Ping (王平) — likely a pseudonym — slammed Locke's portrayal as an official judicious with public funds, but accused him of being hypocritical as he retreated into his multimillion-dollar official residence and special-made, bulletproof luxury vehicle.
Wang belittled Locke's inability to speak his ancestral language and accused him of failing to understand China's law, but fanning "evil winds" in the ethnically sensitive regions of Tibet and Xinjiang.
"Not only did he run around by himself, he even served as a guide dog for the blind when he took in the so-called blind rights lawyer Chen Guangcheng (陳光誠) and led him running," the editorial said.
Chen was later allowed to leave China and now lives in the US.
The editorial directed a Chinese curse at Locke, suggesting Locke's Chinese ancestors would expel him from the family clan should they know his behavior.
Wang also made the innuendo that Locke should be blamed for Beijing's increasing smog.
"When he arrived, so did Beijing's smog," Wang wrote. "With his departure, Beijing's sky suddenly turned blue."
"Let's bid goodbye to the smog, and let's bid goodbye to the plague. Farewell, Gary Locke," the article ended, which was clearly inspired by former Chinese leader Mao Zedong's (毛澤東) 1949 piece, Farewell, Leighton Stuart, that scoffed at the last US ambassador under the collapsing Chinese Nationalist government in Nanjing.
The piece shocked members of the Chinese public, who denounced the editorial as distasteful and offensive.
"This article by China News Service is the most shameless I have ever seen — not one of them, but the most shameless," the popular online commentator Yao Bo (姚波) said. "Without him, we probably still would not have known what PM2.5 is, and how did he bring the smog? You have played the snake in the Farmer and the Viper."
Comments will be moderated. Keep comments relevant to the article. Remarks containing abusive and obscene language, personal attacks of any kind or promotion will be removed and the user banned. Final decision will be at the discretion of the Taipei Times.