Pair held over Hon Hai probe, one official bailed
A Hon Hai Precision Industry Co (鴻海精密) supplier and former senior exeutive were detained yesterday, while a former Hon Hai official was released on bail by the Taipei District Court, over their alleged roles in a kickbacks scheme.
The Taipei District Prosecutors' Office on Tuesday night requested that the court detain Deng Chih-hsien (鄧志賢), secretary-general of a surface mount technology (SMT) committee at Hon Hai that is responsible for the main procurements for the company and its subsidiaries, as well as Hau Shi-kung (郝旭光), a Hon Hai supplier.
After an early morning hearing, the court ruled that Hau was to be detained, while Deng was to be released on NT$3 million (US$100,000) bail. He has been barred from moving out of his residence or leaving the country.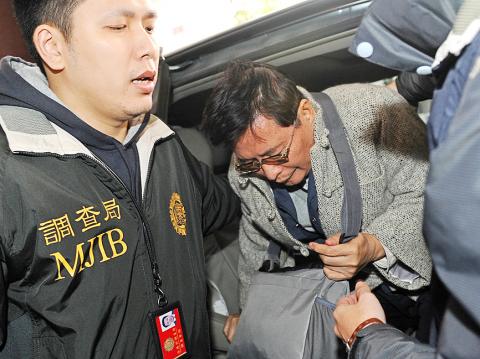 Former Hon Hai Group deputy general manager Liao Wan-cheng arrives at the Taipei District Prosecutors' Office yesterday for questioning.
Photo: Liu Hsin-de, Taipei Times
The two men are suspected of acting as middlemen between SMT committee members and suppliers for kickbacks, the court said.
Meanwhile, former Hon Hai deputy general manager Liao Wan-cheng (廖萬城), who allegedly ran away from a hospital where he was being treated on Tuesday morning after learning that investigators were looking for him, turned himself in to prosecutors yesterday morning.
Prosecutors requested the court detain Liao, saying that he was a key suspect in the case and might try to escape if allowed to remain free. The court agreed last night to his detention.
On Tuesday evening, prosecutors released former Hon Hai engineering department manager Yu Chi-an (游吉安) on NT$2 million bail and senior manager Chen Chih-chuan (陳志釧) on NT$1 million bail.
The suspects are charged with offenses of special breach of trust under the Securities Exchange Act (證券交易法), prosecutors said.
Prosecutors yesterday declined to comment on a report in the latest edition of Next Magazine that alleged former SMT committee members had taken more than NT$15 billion over the course of five years, with Liao allegedly pocketing more than NT$50 million.
Hon Hai also declined to confirm the report, saying that the matter was now a judicial case.
"The amount is media speculation. It is groundless," Hon Hai said in an e-mailed statement.
Prosecutors began their probe in January last year after newspaper reports alleging there had been kickbacks. Hon Hai filed a lawsuit at the time against a number of company managers over the allegations.
Additional reporting by Lisa Wang
Comments will be moderated. Keep comments relevant to the article. Remarks containing abusive and obscene language, personal attacks of any kind or promotion will be removed and the user banned. Final decision will be at the discretion of the Taipei Times.