Super typhoon kills hundreds in the Philippines
One of the most powerful typhoons in history is believed to have killed hundreds of people in the Philippines, with a UN disaster official yesterday comparing the destruction caused by towering waves and savage winds to the 2004 Indian Ocean tsunami.
Thousands of soldiers and relief workers were battling to reach communities flattened Super Typhoon Haiyan, with some of the worst-hit areas yet to be contacted yesterday night.
The storm ripped into the eastern islands of Leyte and Samar on Friday morning with sustained winds of about 315kph, generating storm surges that saw 3m-high waves swamp coastal towns.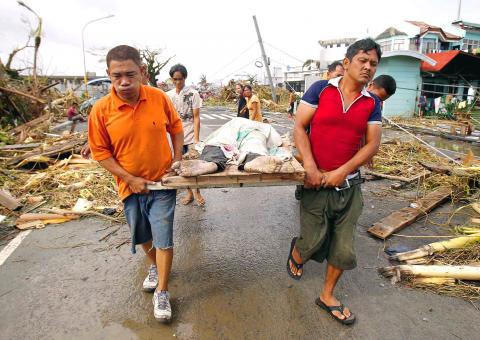 Survivors carry a person killed as super Typhoon Haiyan battered Tacloban city, the Philippines, yesterday.
Photo: Reuters
"This is destruction on a massive scale. There are cars thrown like tumbleweed and the streets are strewn with debris," said Sebastian Rhodes Stampa, the head of a UN disaster assessment coordination team.
"The last time I saw something of this scale was in the aftermath of the Indian Ocean tsunami," he said, referring to the 2004 disaster that claimed about 220,000 lives.
Stampa made his comments after arriving in Tacloban, the destroyed capital of Leyte, which has a population of about 220,000 people.
More than 4 million people were affected across 36 provinces as Haiyan ripped across the Southeast Asian archipelago, the Philippine government said.
One area of concern yet to be reached was Guiuan, a fishing town of about 40,000 people on Samar that was the first to be hit after Haiyan swept in from the Pacific Ocean.
Philippines Red Cross chief Gwendolyn Pang also said relief workers were trying to get to Capiz province, about 200km west of Tacloban, on Panay Island.
She said most of Capiz's infrastructure had been destroyed and many houses "flattened to the ground."
Fifteen thousand soldiers were in the disaster zones to help with rescue efforts, military spokesman Lieutenant-Colonel Ramon Zagala said.
Zagala said helicopters were flying rescuers into priority areas, while infantry units deployed across the affected areas were also proceeding on foot or in military trucks.
Yesterday evening, Pope Francis tweeted his support for the typhoon victims, writing: "I ask all of you to join me in prayer for the victims of Typhoon Haiyan / Yolanda especially those in the beloved islands of the Philippines."
Haiyan's wind strength, which remained close to 300kph throughout Friday, made it the strongest typhoon in the world this year and one of the most intense ever recorded.
It exited into the South China Sea yesterday and tracked toward Vietnam, where more than 200,000 people crammed into storm shelters and soldiers helped reinforce vulnerable homes as authorities swung a mass evacuation plan into place. The storm was expected to make landfall in Vietnam early today.
The Red Cross has said Haiyan is likely to be a Category two or three typhoon and warned that about 6.5 million people in Vietnam could be affected.
Philippine authorities had expressed confidence on Friday that only a few people had been killed, citing two days of intense preparation efforts led by Philippine President Benigno Aquino III.
Nearly 800,000 people in danger zones had been moved to evacuation centers, while thousands of boats across the archipelago were ordered to remain secured at ports. Hundreds of flights were also canceled.
Aquino said yesterday night it appeared some communities had not heeded the warnings.
"I hesitate to say this, but it seems that Tacloban was not that prepared, shall we say, compared with other areas," he told reporters in Manila.
Comments will be moderated. Keep comments relevant to the article. Remarks containing abusive and obscene language, personal attacks of any kind or promotion will be removed and the user banned. Final decision will be at the discretion of the Taipei Times.