Bolivian president flies home to hero's welcome
Bolivian President Evo Morales urged European countries to "free themselves from the US empire" as he arrived home late on Wednesday after his plane was diverted because of suspicions that US intelligence leaker Edward Snowden was traveling with him.
Morales received a hero's welcome from dozens of cheering supporters when his aircraft touched down near La Paz almost 17 hours after leaving Vienna, an Agence France-Presse reporter saw.
The jet, on its way home from Moscow, had been forced to land in the Austrian capital after several European nations denied it overfly rights, in an incident that sparked a diplomatic row and was likened by Morales to a "13-hour kidnapping."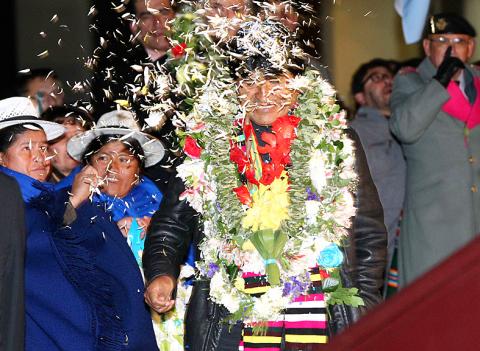 Bolivian President Evo Morales, center, is heavily garlanded as he is warmly welcomed on his arrival at El Alto airport in La Paz, Bolivia, late on Wednesday.
Photo: EPA
"Some countries of Europe have to free themselves from the US empire," Morales told his supporters at the airport, who carried flowers, threw confetti and waved national flags.
"They are not going to frighten us, because we are a people with dignity and sovereignty," he said.
Bolivian officials said France, Italy, Spain and Portugal initially denied his plane the right to fly through their air space late on Tuesday amid concerns that Snowden was aboard.
Late on Wednesday, a group of about 100 protesters threw rocks and firecrackers at the French embassy in the Bolivian capital, smashing windows. They also burned French flags.
France has since apologized for temporarily refusing entry to Morales' jet, with French President Francois Hollande saying there was "conflicting information" about the plane passengers.
Snowden is seeking to avoid US espionage charges after leaking embarrassing details of a vast US phone and Internet surveillance program that has alarmed Washington's foreign allies. The 30-year-old is currently holed up at a Moscow airport looking for a country that will give him safe haven.
Bolivia is one of 21 countries Snowden has asked for asylum. Morales said earlier this week that his country would be willing to study the request.
Once the European countries lifted their objections, Morales flew home via Spain and Brazil, where it made refueling stops.
Latin American nations have expressed outrage over the plane diversion.
Argentine President Cristina Kirchner called the European countries' behavior "colonialist." Her Brazilian counterpart Dilma Rousseff said she was "indignant."
A meeting of a South American grouping called UNASUR was to convene yesterday to analyze the way Morales was treated.
Comments will be moderated. Keep comments relevant to the article. Remarks containing abusive and obscene language, personal attacks of any kind or promotion will be removed and the user banned. Final decision will be at the discretion of the Taipei Times.