Fines raised for causing death through overwork
The legislature yesterday revised rules to hold employers responsible for deaths from overwork, although a labor rights campaigner criticized a maximum fine of NT$300,000 (US$10,000) to be imposed on an employer as insufficient.
Following the passage of an amendment to the Labor Safety and Health Act (勞工安全衛生法), which was renamed the Occupational Safety and Health Act (職業安全衛生法) yesterday, Taiwan Association for Victims of Occupational Injuries representative Ho Kuang-wan (賀光卍) expressed skepticism over its effectiveness as a deterrent.
"The law requires an employer to pay NT$300,000 in compensation for a worker's death resulting from excessive work. In most cases, bosses don't care about money. If the punishment is limited to fines, there will be no deterrent effect," Ho said.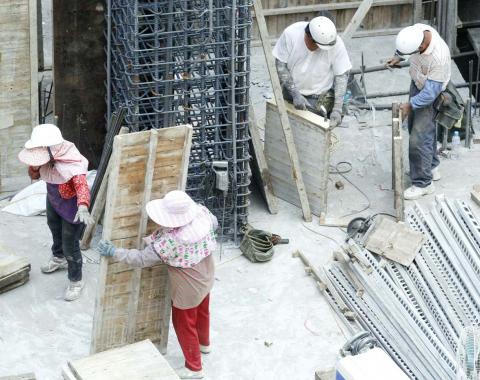 Laborers work on a building site yesterday as the legislature amended the Labor Safety and Health Act.
PHOTO: CNA
Ho made the remarks at a press conference called by Democratic Progressive Party Legislator Lin Shu-fen (林淑芬), whose proposal that employers against whom death-by-overwork lawsuits are filed be given jail sentences was rejected by the legislature.
Although jail sentences were not included in the main text of the article, it was stated in the interpretation of the law that if an employee died of overwork, their employer may face charges under Article 276 of the Criminal Code for professional negligence resulting in death.
Under the law's new articles, employers are required to take precautionary measures to prevent adverse health effects resulting from an abnormal working schedule, such as overtime and night shifts, which put unusual strain on the body.
Violations of the rules will be punishable by a fine of between NT$30,000 and NT$150,000, while employers could be fined up to NT$300,000 in the event of occupational diseases caused by working conditions that could have been prevented.
The amendment expanded the number of employees covered under the act to 10.67 million workers in all sectors, from the current 6.7 million in certain industries.
In light of a string of major work safety incidents at the Sixth Naphtha Cracker in Yunlin County's Mailiao Township (麥寮) operated by Formosa Petrochemical Corp (台塑石化) last year, the legislature endorsed the proposed rules targeted at protecting workers in high-risk environments, such as those in the petrochemical industry, dubbed the "sixth naphtha cracker clause."
Employers who fail to comply with workplace safety regulations and conduct regular risk assessments would be given a fine of up to NT$3 million, the law stipulated.
Comments will be moderated. Keep comments relevant to the article. Remarks containing abusive and obscene language, personal attacks of any kind or promotion will be removed and the user banned. Final decision will be at the discretion of the Taipei Times.