Manila says boat rammed coast guard
Manila yesterday defended the Philippine Coast Guard (PCG) officer involved in an incident that led to a Taiwanese fisherman's death.
"It was an aggressive act. The [Taiwanese fishing boat] rammed into our vessel, which was certainly an aggressive act, so the PCG responded accordingly," deputy presidential spokesperson Abigail Valte was quoted by media as saying.
PCG spokesman Commander Armand Balilo said "they [PCG officials] fired at the machinery to disable it [the Taiwanese fishing boat] ... if somebody died, they deserve our sympathy, but not an apology."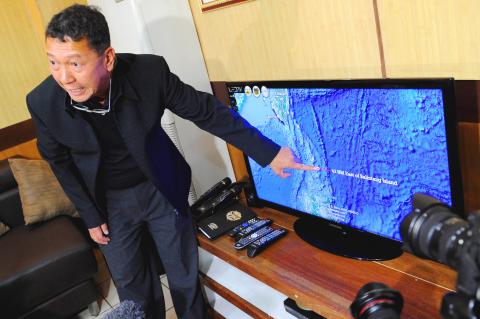 Philippine Bureau of Fisheries and Aquatic Resources Director Asis Perez points to a map in Manila yesterday showing where a patrol vessel shot at a Taiwanese boat.
Photo: AFP
Manila yesterday admitted that Hung Shih-cheng (洪石成), who was on board the fishing boat Kuang Ta Hsing No. 28, died in the incident.
Media said a report regarding the incident was sent to the Malacanang Palace yesterday that said PCG personnel on board the Bureau of Fisheries and Aquatic Resources (BFAR) vessel "reacted to an attempt by one of the four Taiwanese fishing boats to ram the former's ship."
A Maritime Control Surveillance vessel spotted four Taiwanese fishing boats about 43 nautical miles (80km) east of Balintang island in the nation's economic zone on Thursday, reports said.
"When they [PCG personnel] tried to board one of the fishing boats, one of the [Taiwanese] vessels rammed the BFAR vessel that was being manned by the coast guard," Valte said. "So a warning shot was fired, but the [Taiwanese] vessels reportedly did not stop in their attempts to continuously ram the BFAR vessel and another shot was fired at the machinery portion of the ship."
Valte was quoted as saying that the Philippines would decide whether it needs to apologize after the investigation is complete.
Meanwhile, PCG Commander Rodolfo Disorena said 11 law enforcement personnel with the PCG and BFAR had been suspended for their roles in the incident.
Rodolfo Isorena, the PCG commandant, promised that the Philippines would investigate the incident in a "transparent and impartial" manner.
Comments will be moderated. Keep comments relevant to the article. Remarks containing abusive and obscene language, personal attacks of any kind or promotion will be removed and the user banned. Final decision will be at the discretion of the Taipei Times.