China's Xi pledges peaceful ties with Taiwan in meeting
Chinese Vice President Xi Jinping (習近平) yesterday pledged peaceful ties during a meeting with a delegation of Taiwanese political and business leaders, suggesting that China's policy toward Taiwan will not shift dramatically when he becomes president.
Peaceful development of cross-strait ties is the duty of the new Chinese Communist Party (CCP) leaders, Xi told former Chinese Nationalist Party (KMT) chairman Lien Chan (連戰), whose four-day trip to China is seen as offering a look at how Xi will handle relations between China and Taiwan.
"Safeguarding the interests of our Taiwanese compatriots and improving their well-being is the mainland's oft-repeated pledge and solemn promise of the new leaders of the CCP's central committee," Xi said, according to Xinhua news agency.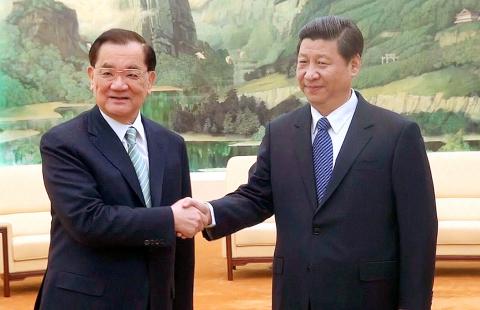 Former Chinese Nationalist Party (KMT) chairman Lien Chan, left, shakes hands with Chinese Communist Party General Secretary Xi Jinping at the Great Hall of the People in Beijing yesterday.
Photo: CNA
"Of course, we also are soberly aware that historical problems remain in cross-strait relations, and that there will be issues in the future that will require time, patience and joint efforts to resolve," Xi said.
Xi's meeting with Lien was his first with a senior political figure from Taiwan since becoming the CCP's general secretary in November last year. Xi will become China's president next month.
Lien is set to meet outgoing Chinese President Hu Jintao (胡錦濤) today. In a statement he said the 18 cross-strait agreements signed in the past four years were a break from the previous tumultuous relations, but added that "core issues" remained unresolved.
He said that experts and non-governmental organizations could tackle difficult political issues.
Taiwan and China can address stumbling blocks in trying to define "one China" and work out a reasonable arrangement, Lien said, adding that a solution can be expected in time.
He described cross-strait relations as moving from "one critical stage to another."
As examples of issues that involve politics, he cited Taiwan's participation in international organizations and cross-strait cooperation on fighting crime.
In the first case, he said a concrete result has been achieved without formal negotiations on an issue that is political in nature.
In a press release, Lien's office said the meeting was based on the principles of "the one-China framework, cross-strait peace, mutual interest and integration, and revitalization of the Zhonghua Minzu [中華民族; Chinese ethnic group]."
Themed with these principles, the press release quoted Lien as tendering to Xi four opinions pertaining to cross-strait developments: that both sides of the Taiwan Strait agree with the "one China" framework, despite differences in their interpretations of the principle; that both sides put an end to cross-strait hostility while gradually ironing out disputes; that both sides seek to facilitate exchanges and mutual prosperity while strengthening their ethnic bond; and that both sides work to promote public welfare while upholding their ethnic dignity.
"Both sides of the Taiwan Strait should first seek common ground, put aside their differences and set aside disputes, before developing a more meaningful and constructive cross-strait relationship in the future," Lien was quoted as saying in the press release.
Meanwhile, at a time when political differences remain between both sides of the Taiwan Strait, cross-strait [leaders] should separately govern [their territories] and show respect to each others, while seeking to consolidate cooperation and achieve a win-win situation, Lien was quoted as saying.
The press release also quoted Lien as sharing a number of conceptions on cross-strait relations featured in the political report delivered by Hu at the CCP's 18th Party Congress in November last year.
"These remarks are true to reality and far-sighted, with which I deeply agree," Lien was quoted as saying, refereeing to Hu's call for Taiwan and China to "jointly explore cross-strait political relations and make reasonable arrangements for them under the special condition that the country has yet to be reunified."
"We should commence exploration and forge consensuses based on this notion, striving to build a [cross-strait] political framework that is balanced, equal and feasible," Lien was quoted as saying. "These efforts would be extremely conducive to achieving peace and sustainable developments across the Taiwan Strait in the future."
Experiences accumulated during the more than two decades of cross-strait negotiations have highlighted the fact that disputes lead only to conflicts, idleness and self-consumption, the press release said.
It added that only by assisting each other and achieving integration could both sides establish their mutual interests and expedite the pace of [Chinese] ethnic revitalization.
"The development of cross-strait relations is aimed at improving the people's well-being and is the common career of the entire [Chinese] ethnic group. It is not carried out for the purpose of serving the interest of a specific political party or for temporary interests, which is something people on both sides of the Taiwan Strait would like to see."
Comments will be moderated. Keep comments relevant to the article. Remarks containing abusive and obscene language, personal attacks of any kind or promotion will be removed and the user banned. Final decision will be at the discretion of the Taipei Times.