Advocates call for end to 'divine pigs'
HEAVENLY HOGS? The practice of rearing pigs to be more than 10 times their normal size as offerings for deities drew fire, with vegetarian alternatives suggested
Animal rights advocates yesterday rallied outside the Chingshui Zushi Temple (清水祖師廟) in Sansia District (三峽), New Taipei City (新北市), urging an end to "divine pig" contests.
Chanting "overweight pigs do not bring fortune" while parading a model of a cartoon pig on the bridge leading to the temple, the advocates urged passers-by to join their campaign to halt the practice, the last such contest in the Taipei metropolitan area.
"I would like to make it clear that we are not against the tradition of having pigs as offering to deities and immortals, but if you choose to do this, please buy pigs that are raised in a healthy way and slaughtered humanely," Environmental and Animal Society Taiwan (EAST) director Chen Yu-min (陳玉敏) told the crowd.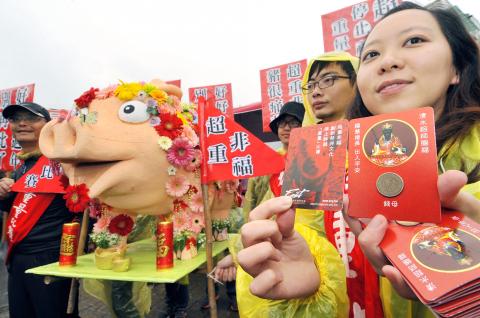 Animal rights activists protest the "divine pig" contest held by Chingshui Zushi Temple yesterday in Sansia District, New Taipei City.
Photo: Chen Chih-chu, Taipei Times
"Pigs normally grow to over 100 jin [60kg], but the divine pigs are force-fed and grow to about 1,000 jin or more, then have their throats cut while they are conscious. This is unhealthy, cruel and inhumane," Chen said.
She said that all deities are merciful and would not appreciate offerings that cause suffering in living creatures.
"Don't forget that Chingshui Zushi was a learned and much respected Buddhist master and a vegetarian," Chen said.
According to tradition, the heavier the pig that a devotee presents as an offering, the more sincere the devotee, though both Buddhist and Taoist teachings urge vegetarian offerings at religious rituals.
While contests on the weight of divine pigs were once popular across the country, only a few temples still hold such events.
In Sansia, seven family clans take turns each year to be in charge of raising such pigs, receiving certificates and medals according to the weight of the animals.
According to EAST, there are 126 Chingshui Zushi temples across the country, but the Sansia temple is the only one still holding annual divine pig contests.
Most people at the event reacted positively to the call.
"Killing is discouraged in Taoism, so why kill pigs for deities? Pigs are also living creatures," a local resident surnamed Wu (吳) said.
A man surnamed Chang (張), who traveled to Sansia with his family to attend the festivities, said that he did not see the point in having overweight pigs as offerings.
Another man, surnamed Huang (黃), from Fusing Township (復興), Taoyuan County, said that there are alternatives to offering pigs.
"A few years ago, when I had to prepare an offering for deities at a temple in my hometown, I made a 'divine pig' with bags of rice, with each bag weighing 20kg," Huang said. "After the ritual, I gave the rice to poor families. I think this is a better idea."
Responding to the activists, the temple's executive director Liu Chin-ta (劉金達) said that it may consider ending the divine pig contest in 2017.
"Seven clans take turns to raise divine pigs, so each cycle lasts seven years. The current cycle started in 2010, and since we cannot just stop it, we have to wait until at least 2017 to put an end to the practice," Liu said. "Of course, it's up to the temple's board of directors to make the final decision on the matter."
Comments will be moderated. Keep comments relevant to the article. Remarks containing abusive and obscene language, personal attacks of any kind or promotion will be removed and the user banned. Final decision will be at the discretion of the Taipei Times.