Funerals in Port Said following deadly clashes
TROUBLED TIMES: Overnight clashes on the outskirts of Cairo's Tahrir Square continued into yesterday, with a bridge blocked off and tear gas in the air
Thousands of mourners marched yesterday in the Egyptian city of Port Said at the funeral of people killed in clashes triggered by death sentences on supporters of a local soccer team.
Bodies wrapped in white shrouds were carried in open coffins by a sea of mourners along the city's main avenue.
A brief burst of gunfire sent mourners running in several directions amid chaotic scenes before calm was restored.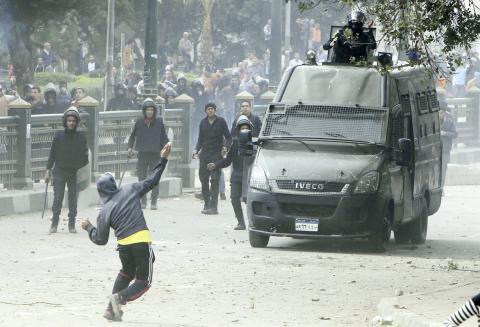 A protester throws stones at riot police during clashes in Cairo yesterday.
Photo: Reuters
"Our city is being hit by the interior ministry!" and "Down with Brotherhood rule!" the crowd chanted.
On Saturday, 31 people were killed in the city in clashes with police after a Cairo court handed down death sentences on 21 supporters of Port Said's Al-Masry soccer club.
There was no police presence securing yesterday's funeral, and shops and businesses remained closed for a second day, witnesses said.
The burials came after a day of rioting in Port Said and Suez and deadly protests in Cairo against Egyptian President Mohamed Morsi, highlighting deep political divisions and long-standing tensions between police and protesters.
In Cairo, overnight clashes on the outskirts of Tahrir Square — the symbolic heart of the uprising that ousted former Egyptian president Hosni Mubarak in 2011 — continued into yesterday, with one bridge blocked off and the heavy smell of tear gas hanging in the air.
Overnight, demonstrators blocked the 6 October bridge, a vital flyover linking east and west Cairo, and burned cars as police clashed with masked protesters on the Nile corniche.
Trouble flared on Saturday just minutes after the verdict in the trial of last year's soccer riots that left 74 people dead. The violence followed a clash between Al-Masry and Cairo's Al-Ahly.
Many Egyptians believe the deadly stadium violence was orchestrated either by police or by Mubarak supporters, and any verdict was likely to trigger a highly charged response.
Cairo soccer fans had threatened widespread chaos if justice was not served, and Port Said residents said the ruling was politically motivated.
"The government delivered a political ruling that sacrificed our children to avoid chaos," said Ashraf Sayyed, a resident of the canal city.
"Our children are the scapegoats used to restore calm in the rest of the country," Sayyed said.
On Saturday, protesters in Port Said attacked police stations and set tires alight and relatives of those who were sentenced clashed with security forces as they tried to storm the prison in Port Said where the defendants are being held.
Medics said all the fatalities were from gunfire.
Crowds stormed two police stations as heavy shooting crackled through the city, where shops and businesses had closed, a correspondent said.
Ambulances ferried the injured to hospitals and mosques urged worshipers to donate blood.
The army deployed troops to restore calm and protect vital public buildings, military sources and witnesses said.
Clashes also erupted in the nearby canal city of Suez, where at least eight people were killed in fighting on Friday.
Protesters stormed four police stations, freed 25 detainees and seized weapons, security sources said.
Comments will be moderated. Keep comments relevant to the article. Remarks containing abusive and obscene language, personal attacks of any kind or promotion will be removed and the user banned. Final decision will be at the discretion of the Taipei Times.