Ramsey Clark asks government to free Chen Shui-bian after visit to prison
'CLEARLY SUFFERING': The former US attorney-general said the former president was very ill and said Taiwanese should demand he be released
Former US attorney-general Ramsey Clark, a longtime advocate for Taiwanese democracy, yesterday visited former president Chen Shui-bian (陳水扁) in Taipei Prison and said that the government should release Chen immediately.
Clark visited Chen in the afternoon, accompanied by former Democratic Progressive Party (DPP) legislator Chai Trong-rong (蔡同榮) and Chen's son, Chen Chih-chung (陳致中).
After the 80-minute visit, Clark left the prison and told hundreds of Chen Shui-bian supporters that the former president's health was deteriorating and that he needed be freed immediately.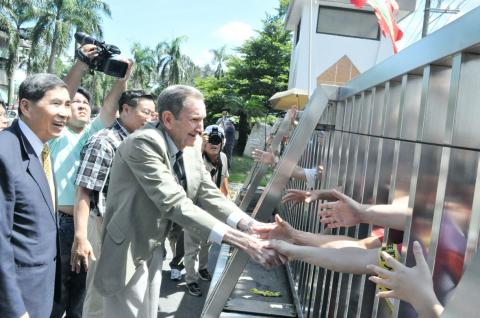 Former Democratic Progressive Party legislator Chai Trong-rong, left, looks on yesterday as former US attorney-general Ramsey Clark, second left, shakes hands with jailed former president Chen Shui-bian's supporters at the gate of Taipei Prison in Gueishan Township, Taoyuan County.
Photo: Yu Juei-jen, Taipei Times
Taiwanese should stand up to support the release of Chen Shui-bian, he said.
Clark said Chen Shui-bian should receive appropriate medical treatment, as well as his human rights. All people in Taiwan should call for Chen Shui-bian's release and only people power could make it happen, he said.
Hundreds of supporters cheered Clark's remarks.
Clark also told reporters that the former president was clearly suffering and very ill.
"I respect his courage. He has a strong will. He is upheld by people's support and I believe he will regain his strength after he is released," Clark said.
He said Chen Shui-bian's release would be good for Taiwanese and for all political parties.
He added that a report on Chen Shui-bian's situation would be submitted to concerned US governmental departments and said he hoped President Ma Ying-jeou (馬英九) would consider freeing the former leader.
Chen Shui-bian is serving a 17-and-a-half-year prison term on corruption charges. During his incarceration, he has complained about several physical ailments, including chest pains.
An internationally renowned defender of human rights, Clark flew to Taiwan in 1980 to express concerns over what came to be known as the Formosa Incident, also known as the Kaohsiung Incident, during which riot police cracked down on protesters calling for political rights.
Comments will be moderated. Keep comments relevant to the article. Remarks containing abusive and obscene language, personal attacks of any kind or promotion will be removed and the user banned. Final decision will be at the discretion of the Taipei Times.