Su extends olive branch to China
UNITY NO. 1: While the DPP's China policy will be high on the list, the top priority for Su Tseng-chang will be to smooth over tensions among factions within the party
The Democratic Progressive Party (DPP) will take a flexible approach to China and will re-open its department of China affairs, incoming party chairman Su Tseng-chang (蘇貞昌) has announced, following his landslide win in Sunday's leadership vote.
Su, who garnered 50.47 percent of the total votes in the five-man race, will assume the party's leadership from interim chairperson Chen Chu (陳菊) in a ceremony tomorrow.
The seasoned politician has numerous tasks ahead of him, including re-establishing party unity after the election, party reform, formulating new policies on China and the US and winning the 2014 seven-in-one municipal elections.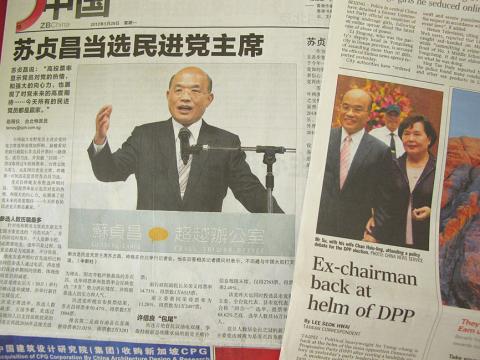 Singaporean daily newspapers Lianhe Zaobao and The Straits Times yesterday report the election of former premier Su Tseng-chang as chairman of the Democratic Progressive Party.
Photo: CNA
Party unity appears to be the top priority on Su's agenda, with the 64-year-old saying he would hold talks with leaders of various party factions and those who hold grudges against him.
Su will soon have to appoint officials for various positions at DPP national headquarters and questions remain as to whether he will be "generous enough" to share his power with other factions.
The DPP will elect 30 members of the Central Executive Committee and 10 members of the Central Standing Committee — the DPP's top decisionmaking body — in July, when the factions are expected once again to jockey for power.
Many analysts agree it will be critical for Su that he run the party smoothly, rebuild unity and regain party members' trust for the DPP to have a shot at the 2016 presidential election, which some believe is Su's next goal.
Su wasted no time extending olive branches, saying on Sunday night that he would not rule out meeting President Ma Ying-jeou (馬英九) if circumstances allowed it.
He also threw out the first pitch to Beijing, reiterating in his post-election press conference on Sunday night that he would re-establish the DPP's Department of China Affairs and establish a Chinese affairs committee that includes academics and experts as members.
The DPP should engage Beijing with a flexible attitude and approaches, he said.
The veteran politician also said he would not rule out a visit to China "as long as the timing is right and no preconditions are set by Beijing."
Several DPP legislators welcomed the idea, with Tsai Huang-liang (蔡煌瑯) saying that more exchanges would help the party engage China with confidence and that the "China issue" would not be the party's Achilles' heel again in 2016.
Chang Kuo-cheng (張國城), a researcher at Taiwan Thinktank, urged the party to conduct a large-scale survey to better understand the public's attitude toward China and its deep impact on various levels of Taiwanese society and the electorate's voting behaviors.
"It would be meaningless to say that 'we want to better understand China,'" he said.
It may be possible that Su will be mentioned during the next two years in the same breath as former DPP chairperson Tsai Ing-wen (蔡英文), who was lauded for her leadership, which helped the party rebound from its nadir in 2008, when it suffered a humiliating defeat to Ma in the presidential election.
With Tsai and Su both interested in running for the presidency four years from now, the interactions, comparisons and competition between the two DPP heavyweights are expected to be a hot issue during Su's tenure.
Comments will be moderated. Keep comments relevant to the article. Remarks containing abusive and obscene language, personal attacks of any kind or promotion will be removed and the user banned. Final decision will be at the discretion of the Taipei Times.