Su Tseng-chang wins DPP chair vote
LANDSLIDE VICTORY: Su won 50.47% of the vote, with Su Huan-chih coming in second, at just over 21%, in an election that saw a record-high turnout of 68.62%
Former premier Su Tseng-chang (蘇貞昌) yesterday became the new chairman of the Democratic Progressive Party (DPP), easily beating his four opponents in a race that could have a major impact on the future direction of the party.
Su obtained 50.47 percent of the vote by 163,808 registered members, with former Tainan County commissioner Su Huan-chih (蘇煥智) coming a distant second, with 21.02 percent.
The 64-year-old will serve as the DPP chairperson for the second time, after a brief stint between February and December 2005.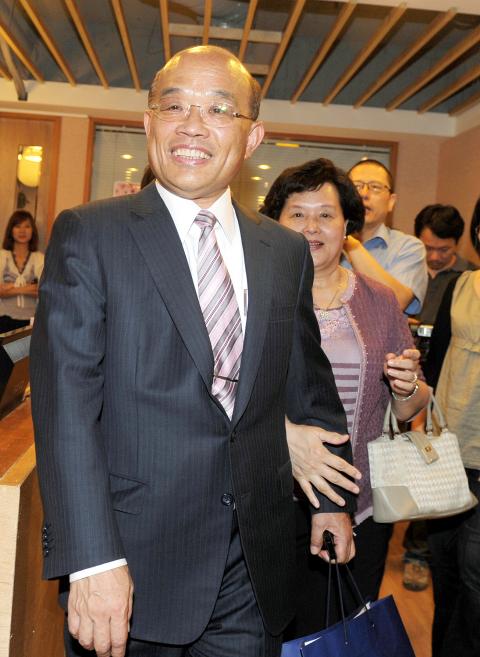 Democratic Progressive Party chairman candidate Su Tseng-chang, left, accompanied by his wife approaches reporters in Taipei yesterday ahead of his victory in the race.
Photo: CNA
Su Tseng-chang, who was regarded as the front-runner from the outset, now has to live up to his pledge in election-eve advertisements in local dailies calling for party unity as the DPP faces major mayoral and commissioner elections in 2014 and a presidential election in 2016.
The turnout rate of 68.62 percent — an all-time high for the party — was better than the expected 50 percent, the DPP said.
A total of 240 polling stations for four elections were set up around the nation between 8am and 4pm.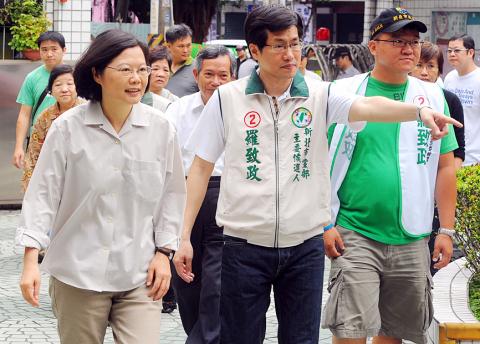 Former Democratic Progressive Party chairperson Tsai Ing-wen, left, is accompanied by Lo Chih-cheng, candidate for the chairmanship of the party's New Taipei City branch, center, on her way to vote in the party's chairmanship election in Yonghe District in New Taipei City yesterday.
Photo: Wang Min-wei, Taipei Times
In addition to a new chairperson, party members selected regional office directors and regional and national representatives.
Despite the election being described as a "four-on-one battle against Su [Tseng-chang]" televised vote counting results showed that he pulled away early.
Former chairperson Tsai Ing-wen (蔡英文), who resigned in March following her loss in the Jan. 14 presidential election, cast her vote in Yonghe District (永和), New Taipei City (新北市), in the morning and said that organizational work at the grassroots level would be crucial for the new party boss.
Former vice premier Wu Rong-i (吳榮義) was third with 16,315 votes, or 14.73 percent, while former DPP legislator Chai Trong-rong (蔡同榮) and former DPP chairperson Hsu Hsin-liang (許信良) ranked fourth and fifth, receiving 11.28 percent and 2.49 percent respectively.
Hsu, who is on a hunger strike over three appeals to President Ma Ying-jeou (馬英九), was taken to a polling station by an ambulance yesterday morning.
Hsu told reporters that the DPP should revive the spirit of protest from its early era regardless of who is elected chairperson, or there would be no one to monitor the president.
Acting DPP Chairperson Chen Chu (陳菊) said she hoped that the new chairperson would be able to "handle the cross-strait exchange issue appropriately" and help the party regain its confidence.
The handover ceremony will be held on Wednesday.
At a press conference last night, Su Tseng-chang said the high turnout in the vote made this a win for the whole party.
Ma, acting in his capacity as Chinese Nationalist Party (KMT) chairman, sent Su Tseng-chang flowers to congratulate him on his victory yesterday.
Asked if he would meet Ma to increase cross-party dialogue, Su Tseng-chang said such efforts should be made if it meant improving the lot of the people, but that if such a meeting were just for show, he would decline.
Candidates who were close to Tsai secured important and symbolic victories in regional director elections, with Lo Chih-cheng (羅致政) scoring a surprise victory over Chang Hung-lu (張宏陸), a Su Tseng-chang confidant, in New Taipei City, and Chuang Ruei-hsiung (莊瑞雄) winning a three-way battle in Taipei.
Publication Notes
Comments will be moderated. Keep comments relevant to the article. Remarks containing abusive and obscene language, personal attacks of any kind or promotion will be removed and the user banned. Final decision will be at the discretion of the Taipei Times.