Fuel costs up as ministry revokes curb
CRUDE EFFECT: The effect of increasing crude prices is forecast to reduce Taiwan's GDP by 0.22 percentage points this year and push up consumer prices 0.37 points
Customers rushed to line up at gas stations nationwide yesterday as news broke that the Ministry of Economic Affairs had scrapped restrictions on fuel price increases, allowing state-run oil refiner CPC Corp, Taiwan (CPC, 台灣中油) to pass higher crude costs on to consumers.
Starting today, gasoline and diesel prices will rise between NT$2.3 a liter and NT$3.6 a liter, or an average of 10.7 percent, the steepest pace in nearly four years.
Minister of Economic Affairs Shih Yen-shiang (施顏祥) said the price hike reflects the soaring cost of crude oil and is aimed at keeping CPC's finances from deteriorating,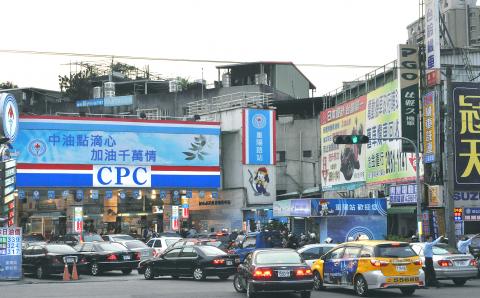 Drivers line up at a CPC gas station on Chongyang Rd in New Taipei City's Sanchong District yesterday.
Photo: Tsai Pai-ling, Taipei Times
"It was not an easy decision, but no country that heavily depends on oil imports can afford to subsidize oil consumption for an extended period of time," Shih told a news conference, adding that Taiwan imports 99.4 percent of its oil supply.
Formosa Petrochemical Corp (台塑石化), the nation's only private-run oil refiner, yesterday said it would increase its gasoline prices between NT$2.2 a liter and NT$3.7 a liter, while the price of diesel will rise by NT$3.2 a liter.
Since December 2010, the government has been subsidizing the nation's oil products in an attempt to stabilize consumer costs by covering half of any necessary price increases.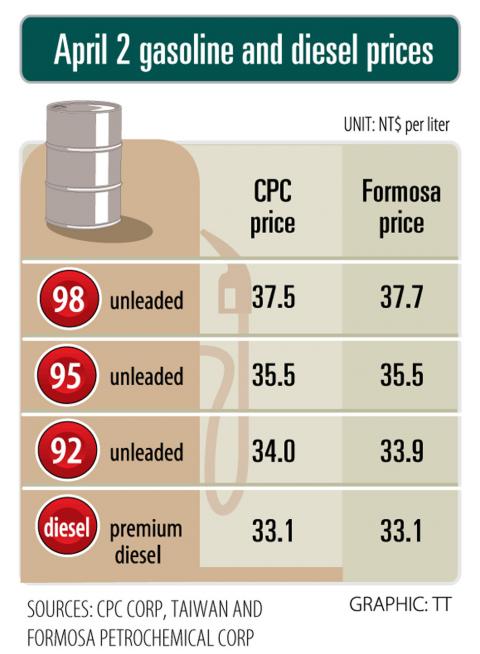 With the subsidy in place, domestic oil and diesel prices rose 8 percent and 11 percent respectively during the past 16 months, Shih said. However, during that same period international crude prices surged 43 percent, Shih added.
Consequently, CPC incurred NT$36.1 billion (US$1.22 billion) in net losses last year and an additional NT$12.5 billion in losses in the first two months of this year, Shih said.
Energy Bureau Director-General Jerry Ou (歐嘉瑞) said the policy adjustment would allow CPC to recover only 60 percent of its cost burdens.
CPC will collect the remaining 40 percent in a progressive fashion by only passing on half of any price cuts — based on a floating price mechanism — should crude prices decline, Ou said, adding that the mechanism would remain in place until past distortions have been fully recouped.
The fuel price hikes would detract 0.22 percentage points from Taiwan's GDP growth this year, forecast at 3.85 percent, and push up consumer prices by 0.37 percentage points, Ou said.
Hsu Chih-chiang (徐之強), an economics professor at National Central University, said the nation's economy might weaken further if international oil prices continue rising.
"An annual 10 percent hike [in crude prices] could dent the nation's GDP growth by 0.5 percent," Hsu said by telephone.
However, the impact might not be evident for three to six months, as retailers tend to initially absorb extra costs to avoid damaging their businesses immediately, the professor said.
The government had no choice but to pass on the price increases to consumers, Hsu said.
However, the increasing costs will help lower demand for oil and encourage the development and sales of energy-efficient cars, home appliances and other products, which is positive for the environment, Hsu added.
According to Ou, car drivers will have to pay on average NT$700 more on fuel a month, while other motorists will spend an extra NT$40.
As of today, CPC's 92-octane unleaded gasoline prices will rise from NT$31.7 to NT$34 a liter, while 95-octane unleaded will increase from NT$32.4 to NT$35.5 and 98-octane from NT$33.9 to NT$37.5, Ou said.
Meanwhile, the price of CPC's diesel will climb from NT$29.9 to NT$33.1 per liter, he said.
"The price increases are uneven, so owners of expensive cars will take on more of the burden," Ou said.
To ease the impact on public transportation, the ministry raised its bus subsidy from the current NT$2.4 a liter to NT$5 a liter, while the taxi subsidy will go from NT$2 to NT$5 per liter with a quota of 450 liters a month, Ou said.
Meanwhile, the ministry will maintain its price increase restriction on liquefied petroleum gas, given the heavy dependence of small food stores and low-income households on the fuel product, Ou said.
In terms of industry, cement, textile and dye companies will be the hardest hit and the government will help work with them to cut oil consumption, Shih said.
Overall, the price hikes will add 0.1 percent to manufacturing costs, the minister said.
Shih also confirmed that the ministry is assessing the possibility of raising utility rates, but he added that it might not reach a conclusion in the short term.
The minister promised to review CPC's oil procurement and personnel compensation policies, and deliver a report in three months, in reply to challenges over the need for price hikes.
Crude oil costs account for 85 percent of total CPC spending, while personnel outlays make up a modest 2.2 percent, CPC chairman Chu Shao-hua (朱少華) said. He expects crude oil to trade at an average of US$120 a barrel this year.
Comments will be moderated. Keep comments relevant to the article. Remarks containing abusive and obscene language, personal attacks of any kind or promotion will be removed and the user banned. Final decision will be at the discretion of the Taipei Times.