2012 ELECTIONS: Lee Teng-hui stumps on stage for Tsai
THE FUTURE IS YOURS: The former president spoke to a crowd of 80,000 Tsai Ing-wen supporters, saying the DPP leader would make Taiwan a model of democracy
Former president Lee Teng-hui (李登輝) capped off the grand finale to Democratic Progressive Party (DPP) presidential candidate Tsai Ing-wen's (蔡英文) campaign last night, appearing on stage at a rally to endorse the candidate who hopes to become Taiwan's first female president after today's presidential poll.
"Believe in yourself. Believe that you can make a change with the vote in your hand. And believe that Tsai Ing-wen can lead this country and realize your hope," Lee said, before embracing Tsai and her running mate Su Jia-chyuan (蘇嘉全), both of whom were in tears.
"I don't have much time left. Please support Tsai. Make her the first woman president in Taiwan who will make this country a model of democracy. Now, I put Taiwan's destiny in your hands," he said.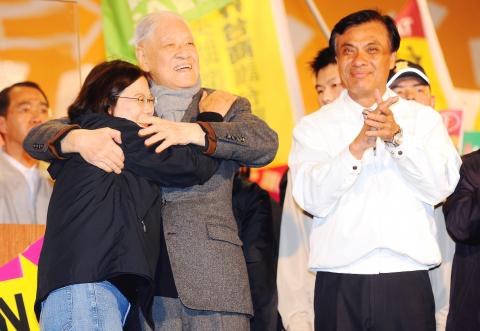 Former president Lee Teng-hui, second left, embraces Democratic Progressive Party presidential candidate Tsai Ing-wen while vice presidential candidate Su Jia-chyuan looks on at the party's final campaign rally in Banciao, New Taipei City, yesterday.
Photo: Chang Chia-ming, Taipei Times
The appearance of Lee, dubbed by many as Taiwan's "Mr Democracy," was the highlight of the night as the 88-year-old former president, who was still recovering from an operation that removed a cancerous tumor in November last year and was expected to endorse Tsai with a prerecorded video because of health concerns, made the appearance after receiving approval from his medical team.
More than 80,000 supporters packed the Banciao Stadium in Banciao District (板橋), New Taipei City (新北市), for the final rally, which has been one of the barometers of the candidates' momentum in past elections. Thousands of people had to sit outside the stadium and watch a live telecast on a giant screen.
Tsai entered the stadium at about 9:10pm, walking on a stage modeled after rock concerts and waving to supporters who chanted: "I love Tsai Ing-wen. I want a woman president!"
All DPP heavyweights, including former vice president Annette Lu (呂秀蓮), former premiers Su Tseng-chang (蘇貞昌), Frank Hsieh (謝長廷), Yu Shyi-kun (游錫堃) and Chang Chun-hsiung (張俊雄), spoke at the event and urged supporters to mobilize their acquaintances to vote today.
Earlier yesterday, Tsai made five pledges at a rally in Keelung, where she began the final day of her campaign to sum up her plans as Taiwan's next president.
If elected, Tsai said she would visit major political parties to seek consensus on a new Cabinet, interparty cooperation and stability during the transition period.
The new administration would be a grand coalition that stresses integrity, efficiency and stability, and one that includes talent from across party lines.
A task force on economic stability, which includes representatives from academics, think tanks, unions and the business sector, would be established and work with the legislature to ensure a seamless transition of economic policy, she said.
Another task force on cross-strait dialogue would also be set up to facilitate bilateral communication and build mutual trust, she pledged, adding that none of the existing cross-strait agreements would be terminated.
Finally, she said, Taiwan would fulfill its responsibility as one of the important democracies and strive for the international space its people deserve.
The people of Taiwan should take their future generations to heart, she told supporters, adding the question of "What will we leave our children?" has always been on her mind, and that it has been one of the most important questions on voters' minds during the presidential campaign.
The question, she said, touched upon the central themes — "Taiwan NEXT" and "Fairness and Justice" — of her campaign.
Her campaign also asserted that Taiwan needs to eliminate binary opposition, which has put Taiwan's democratic development at a stalemate, and has jeopardized social harmony and competitiveness, to end the perennial political division.
"That would be the most important result of the third transfer of power," she said.
Tsai's motorcade left Keelung and arrived in Taipei at noon. Standing on a modified truck, which was parked at the side of a road in the busy East District shopping area, the DPP chairperson told thousands of flag-waving supporters and international media members that she is confident of winning the election.
She then visited the party's New Taipei City strongholds of Sanchong (三重) and Sinjhuang (新莊) districts and received a warm welcome from supporters lined up on both sides of the street, chanting "Dong-suan" (凍蒜, "get elected" in Taiwanese), before her motorcading traveled to her national campaign headquarters in Banciao.
Comments will be moderated. Keep comments relevant to the article. Remarks containing abusive and obscene language, personal attacks of any kind or promotion will be removed and the user banned. Final decision will be at the discretion of the Taipei Times.