2012 ELECTIONS - SUPER SUNDAY: Huge crowds attend Ma rallies
NEVER FORGET: Ma said it was important to mention Chen Shui-bian's corruption conviction because while errors can be forgiven, the lesson mustn't be forgotten
Ratcheting up momentum for his campaign, President Ma Ying-jeou (馬英九) yesterday led a large campaign rally and march in Taipei that attracted tens of thousands of supporters on the final Sunday before the presidential election.
Rallies, titled "Stand up for Taiwan," were simultaneously held in Greater Taichung as well as Hualien and Taitung counties yesterday afternoon.
In Taipei, a large crowd began gathering at Taipei City Hall at noon for a march to Ketagalan Boulevard, waving campaign flags, national flags and holding signs with slogans, such as: "Victory for Ma Ying-jeou" and: "Ma, Only U Ma, four more years!"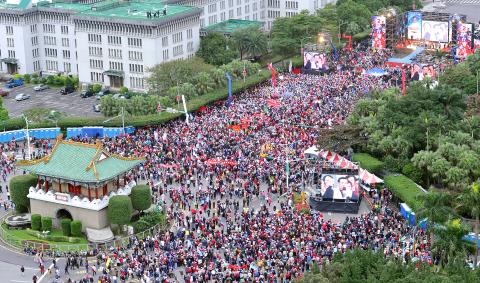 Supporters of President Ma Ying-jeou and his vice presidential candidate, Premier Wu Den-yih, gather on Ketagalan Boulevard in front of the Presidential Office yesterday, the end point of a march led by Ma.
Photo: CNA
Ma appeared on stage at about 2:30pm and drew loud cheers from the crowd. He thanked supporters for their passion before leading the march and said the event highlighted his goal of continuing to lead Taiwan forward.
"The country is walking on the right path with a vigorous economy, clean government, just society and peaceful cross-strait relations. We should not change that direction and let's continue on this path and move forward," he said.
Accompanied by former Chinese Nationalist Party (KMT) chairman Wu Poh-hsiung (吳伯雄), Taipei Mayor Hau Lung-bin (郝龍斌) and New Taipei City Mayor Eric Chu (朱立倫), Ma then started walking toward Ketagalan Boulevard, but could barely move for a while as he was swamped by supporters.
To ensure a large turnout, the KMT mobilized members from all branches, local factions and support groups.
Waving national flags and cheering from the sidewalk with her children, a 40-year-old Taipei resident surnamed Lin (林) said Ma deserved a second term because of his efforts to improve cross-strait relations and boost the economy.
When Ma completed the march two hours later, Ketagalan Boulevard was packed as the crowd spilled into adjacent roads. The rally attracted about 250,000 people, the organizers said.
Surrounded by KMT heavyweights and legislative candidates, Ma took the stage on Ketagalan Boulevard amid cheers from the crowd as they chanted: "Standing up for Taiwan" and: "President Ma, dong suan [凍蒜, Taiwanese for getting elected]."
Ma attacked the Democratic Progressive Party (DPP) administration of former president Chen Shui-bian (陳水扁) and said that DPP presidential candidate Tsai Ing-wen (蔡英文) should apologize for what he called "mistakes in the past."
"Chairperson Tsai and the DPP said we cannot move on from Chen's corruption cases. The reason we keep mentioning the cases is because history happened and the mistakes may have been forgiven, but the lesson should not be forgotten," he said.
Ma questioned Tsai's integrity over recent allegations about her role in an investment case and accused her of being evasive when facing confrontation.
"Chairperson Tsai spent six months talking about a 'Taiwan consensus,' but still failed to offer a clear explanation … Rather than waiting for what she called a Taiwan consensus to be formed, why don't you all let me continue with the current cross-strait policies?" he said.
First lady Chow Mei-ching (周美青) and Ma's running mate, Premier Wu Den-yih (吳敦義), led a rally in Greater Taichung.
Ma later traveled to Greater Tainan and campaigned in Shao Bei Night Market as an attempt to boost support in the south.
Comments will be moderated. Keep comments relevant to the article. Remarks containing abusive and obscene language, personal attacks of any kind or promotion will be removed and the user banned. Final decision will be at the discretion of the Taipei Times.