2012 ELECTIONS: Politicians, academics form fair election committee
More than 80 international and domestic politicians, academics and democracy advocates launched a coalition yesterday calling for free and fair elections and a peaceful transition of power.
The International Committee for Fair Elections in Taiwan (ICFET) announced its formal establishment in Taipei 30 days before the Jan. 14 presidential and legislative elections.
"We have only one sincere but strong demand — that the Jan. 14 elections should be conducted fairly and properly, as fair elections are the minimum requirement for a democratic society and the polls come as a great challenge for Taiwan," said former presidential adviser Peng Ming-min (彭明敏), chairman of the organization.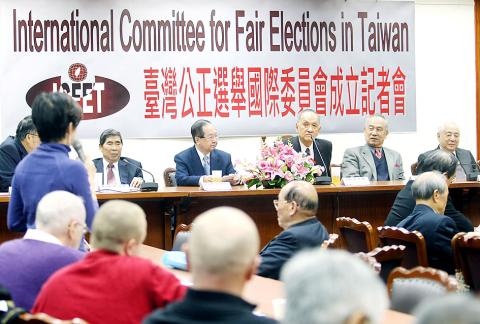 Former presidential adviser Peng Ming-min, third right, speaks during a press conference at the legislature yesterday to announce the launch of the International Committee for Fair Elections in Taiwan.
Photo: CNA
Among the international members are 12 members of the Japanese Diet, five members of the European Parliament, civil society leaders from all continents and experts on Taiwan and Asian affairs, as well as a distinguished group of Taiwanese elder statesmen.
The committee will be closely monitoring election developments and would expose anything inappropriate and unfair, Peng said, adding that it would organize a program to observe the elections from Jan. 11 to Jan. 16, which would include visits to party headquarters, presidential campaign offices, election rallies and election briefings.
The committee called on all Taiwan's political players to abide by the principles of a fair election and to refrain from violent behavior, while asking the international community to respect the political choices of the people of Taiwan.
On behalf of the international members of the committee, Stephane Corcuff, a professor at France's University of Lyon, said while free elections had been the norm in Taiwan for decades, fairness and impartiality must be ensured.
"Freedom and justice should always go hand in hand in elections. Free and just elections serve everyone's interests," Corcuff said.
The committee intends to play an important role in the four-month transitional period between Jan. 14 and May 20, the longest transition period in the history of Taiwan's elections, former deputy foreign minister Michael Kao (高英茂) said.
The committee had planned to invite former US president Jimmy Carter to act as an observer of the elections, but the plan failed to materialize because Carter insisted on a joint invitation by all three presidential candidates and President Ma Ying-jeou (馬英九), who is seeking re-election, refused to sign up, said Chai Trong-rong (蔡同榮), committee executive officer and a legislator of the Democratic Progressive Party.
Former president Lee Teng-hui (李登輝) serves as the committee's honorary chairman, while Wu Li-pei (吳澧培), founding chairman of the Formosa Foundation, and Wu Rong-i (吳榮義), chairman of the Taiwan Brain Trust think tank, serve as vice chairmen.
Notable international members include Edward McMillan-Scott, who is vice president of the European Parliament, Graham Watson, who is president of the European Liberal Democrat and Reform Party and Nat Bellcchi, former chairman of the American Institute in Taipei, among others.
Comments will be moderated. Keep comments relevant to the article. Remarks containing abusive and obscene language, personal attacks of any kind or promotion will be removed and the user banned. Final decision will be at the discretion of the Taipei Times.