US wants Taiwan to join in aid cooperation
More than half a century after the US phased out its economic assistance to Taiwan, the head of the US federal government aid agency yesterday encouraged Taiwan to become a provider of development assistance across the world.
United States Agency for International Development (USAID) Administrator Rajiv Shah singled out three areas in which the US and Taiwan could work together to help create a safe and prosperous world for all the people: humanitarian assistance, food security and health.
The US would like to engage in expanded and more effective cooperation with Taiwan in delivering humanitarian assistance, eliminating hunger and child malnutrition, and investing in healthcare to reduce infectious diseases.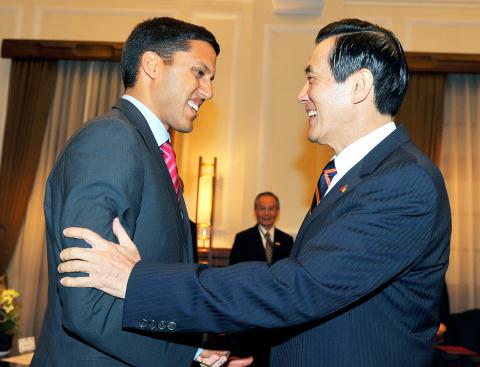 President Ma Ying-jeou, right, greets Rajiv Shah, left, administrator of the United States Agency for International Development, at the start of his visit to Taiwan at the Presidential Office yesterday.
Photo: CNA
Leading the efforts of more than 8,000 professionals in 80 missions around the world after he was sworn in two years ago, Shah was invited by the American Institute in Taiwan to deliver a speech at the "American Footprints in Taiwan" exhibition yesterday.
In his speech, he cited a number of cases of Taiwan's transformation from a country receiving aid from the US to a partner with the US in development cooperation.
The assistance the US offered to Taiwan and South Korea in the Cold War cost less than 1 percent of its budget, but "have paid tremendous dividends," he said.
"Our development cooperation [with Taiwan] has evolved. We no longer provide traditional development assistance to the country. Instead, we have an active conversation about how we might work together," he said.
Shah referred to the situation in a refugee camp on the Kenya-Somalia border to highlight the importance of international cooperation in development.
"Designed 20 years ago for about 80,000 people, today, nearly half a million refugees live in this environment. The drought in the Horn of Africa affected more than 1.3 million people, who have experienced hunger and deprivation for the last four months. Most of the world barely notices that more than 30,000 children under the age of five have died of hunger or hunger-related diseases," he said.
More than 960 million people worldwide go to bed hungry every night, Shah said, but he added that it would be possible to reduce this number to close to 200 million "if we double development investment with real policy reform."
A problem that had to be addressed in policy reform was to examine domestic policies as well as international standards and norms for trade, so as to achieve development results, Shah said.
"Over the last 50 or 60 years, people who led development agencies had not necessarily done as much as they should to have a voice and have a seat at the table to discuss issues like global and bilateral trade negotiations," he said.
US President Barack Obama's administration has tried to correct that, "but we were open-eyed about how difficult the challenge is. The next trade and development round [of talks] will be conducted in just a few weeks in Geneva, and we will put a lot of development issues on the table there," he said.
Comments will be moderated. Keep comments relevant to the article. Remarks containing abusive and obscene language, personal attacks of any kind or promotion will be removed and the user banned. Final decision will be at the discretion of the Taipei Times.