2012 ELECTIONS: DPP derides Ma's 'phony' China claims
FROM THE HORSE'S MOUTH: In an interview with the BBC, Ma said he would not meet with China's top leader if re-elected and said KMT polls show him leading Tsai
The Democratic Progressive Party (DPP) yesterday accused President Ma Ying-jeou (馬英九) of being "phony" when he said that Beijing does not support his re-election bid.
In an interview with the BBC's Chinese-language Web site, Ma on Friday said claims about Beijing backing his re-election bid were not accurate.
The remark drew criticism from the DPP yesterday, with DPP spokesman Chen Chi-mai (陳其邁) saying that since Ma was elected in 2008, he has never at any international occasion or cross-strait negotiation formally demanded that China dismantle its missiles targeting Taiwan.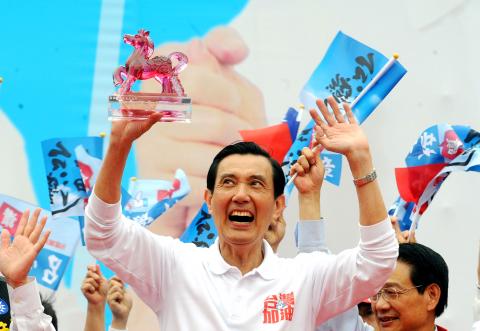 President Ma Ying-jeou holds up a glass horse given to him by supporters at the opening of Chinese Nationalist Party (KMT) Legislator Lu Hsueh-chang's campaign headquarters in Hsinchu City yesterday.
Photo: CNA
Ma was only thinking of how to win re-election and was not putting the safety of Taiwan first despite China's missiles posing a national security threat to Taiwan, he said.
"When Ma was running for president in 2008, he included demands for the Chinese to dismantle the missiles, but then the demands disappeared," Chen said, adding that "Ma's phoniness could also be seen in his proposal of cross-strait peace accords, in which he made no mention of his previous remarks that called on Beijing to remove its missiles aimed at Taiwan [as a precondition for negotiations on a cross-strait peace treaty]."
In the BBC interview, Ma said the allegations that Beijing backs his re-election were made up by his rivals and that none of them were able to present evidence to back their claims.
In the interview, Ma renewed his call for Beijing to dismantle ballistic missiles targeted at Taiwan as early as possible, saying that Beijing's missile deployment was detrimental to the development of relations across the Taiwan Strait. The missile deployment is also one of the main reasons behind the aversion of Taiwanese to the Beijing government, he said.
Responding to a question on whether he could talk Beijing into removing missiles targeted at Taiwan if he were re-elected, Ma said Beijing should be fully aware of the feelings of Taiwan's people.
"I see no need to negotiate this issue. It should take the initiative to do that," Ma said.
He asked: "Is Beijing kind to me, when it has missiles targeting me?"
In an interview with the BBC on Thursday, DPP presidential candidate Tsai Ing-wen (蔡英文) said she was open to the possibility of visiting China as long as Beijing did not set any unreasonable conditions.
In contrast, Ma said that if re-elected, he would not visit China to meet with its top leader. Asked about his views on China's up-and-coming leaders, such as Chinese Vice President Xi Jinping (習近平) and Chinese Vice Premier Li Keqiang (李克強), Ma said he has some knowledge of them, but added that no matter how the composition of Beijing's government changed, its new leaders would support the basic framework for peaceful cross-strait development.
Ma also denied that Tsai had moved past him in the polls as the DPP has claimed in recent days. He said internal KMT polls had him steadily rising, and he expressed complete confidence that he would emerge victorious in the Jan. 14 election.
Translated by Jake Chung, Staff Writer
Comments will be moderated. Keep comments relevant to the article. Remarks containing abusive and obscene language, personal attacks of any kind or promotion will be removed and the user banned. Final decision will be at the discretion of the Taipei Times.