2012 ELECTIONS: Tsai registers for presidential election
SOCIAL HARMONY: The DPP should live up to its call for tolerance by reflecting on its actions and stopping its 'smear' campaign against Ma and Wu, the KMT said
Democratic Progressive Party (DPP) Chairperson Tsai Ing-wen (蔡英文) yesterday registered her candidacy for the Jan. 14 presidential election, saying her confidence in winning the election has grown because of increased nationwide support.
"I believe we will win and we will win because we have you," Tsai told thousands of jubilant supporters at her campaign headquarters in Banciao District (板橋), New Taipei City (新北市), yesterday morning before completing the final registration procedure in downtown Taipei.
Tsai showed the registration form to the media in a packed registration room at the Central Election Commission with her running mate, Su Jia-chyuan (蘇嘉全), standing beside her as she formally began her quest to become Taiwan's first female president.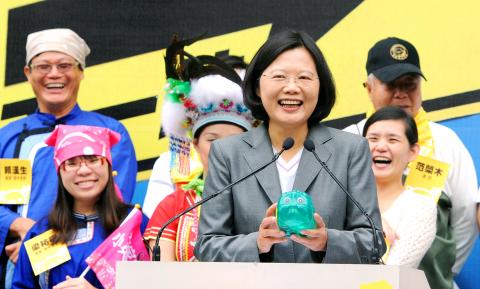 Democratic Progressive Party presidential candidate Tsai Ing-wen holds a green piggy bank at an event at her campaign headquarters early yesterday morning, just before she and her running mate, Su Jia-chyuan, formally registered their candidacies with the Central Election Commission.
Photo: Lo Pei-der, Taipei Times
Several female public servants, who were on duty, took the opportunity to take photographs of Tsai and chanted "Way to go, Chairperson Tsai" as Tsai was leaving the building.
Security for Tsai and Su tightened immediately after their registration, with the National Security Bureau taking over.
Tsai did not make any public comments before or after the registration, but delivered a speech in Banciao.
Tsai, who almost always speaks in a serious and scholarly tone, showed her softer side with three short stories.
She talked about how she held the hand of DPP member Lin Lung-cheng (林龍成) in hospital on Tuesday and told him that the party was determined to win. Lin passed away shortly after.
She talked about how Fang Mei-chin (方美津), former president of the Eastern Taiwan Society, made a fundraising pitch to doctors and nurses for the DPP when she visited the intensive-care unit.
She also talked about how several Aborigines in a remote village in Hualien County reached her campaign headquarters by foot to show their support.
"It is people like these who have made me more determined than ever to win the presidential election, because we, the DPP, shoulder a lot of the expectations of so many Taiwanese," she said.
Turning to the DPP's highly publicized "three little pigs" fund-raising campaign, Tsai officially named the three pigs "Sunshine" (陽光), "Warmth" (溫暖) and "Tolerance" (包容).
The red piggy bank was given the name of Sunshine, she said, because the campaign was inspired by three children in Greater Tainan, where there is abundant sunshine.
She named the green piggy bank "Warmth" for the passion and support of her supporters across the nation.
As for the blue piggy bank, "I understand why some of our supporters have a problem with the color [as it reminds people of the pan-blue camp], but that is why I named it 'Tolerance,'" Tsai said, adding: "We have to work with everyone in this country toward a better future."
Taiwanese can only deal with the many challenges ahead by promoting social harmony and through consolidation, she said.
"These challenges are a responsibility that we must shoulder for the next generation," she said.
In response to Tsai's pledge to run the presidential campaign with warmth and tolerance, KMT spokesperson Lai Su-ju (賴素如) called on Tsai to reflect on the DPP's "smear campaign" against President Ma Ying-jeou (馬英九) and Premier Wu Den-yih (吳敦義) and its accusations that the two had misused public funds for a government-sponsored musical.
Lai said the former head of the Council for Cultural Affairs, Emile Sheng (盛治仁), was in charge of the musical and that plans for the project, including its budget, were already finalized when Sheng presented a report to Ma at a Chinese Nationalist Party's (KMT) Central Standing Committee meeting.
Ma and Wu had no previous knowledge of the budget and did not authorize the project, she said.
In fact, Wu was not even at the committee meeting that day, she said.
"The DPP should not portray Tsai as a refreshing and tolerant candidate on one hand, and use smear tactics against the KMT on the other," she said.
Lai said the KMT would continue its efforts to run a positive campaign and that it expects the campaign to focus on debates on policies.
Additional reporting by Mo Yan-chih
Comments will be moderated. Keep comments relevant to the article. Remarks containing abusive and obscene language, personal attacks of any kind or promotion will be removed and the user banned. Final decision will be at the discretion of the Taipei Times.