Chen Chih-chung to run in election
DIVIDED WE FALL: A DPP spokesperson said that the party had been trying to persuade Chen not to run in the legislative election and would continue to do so
Former president Chen Shui-bian's (陳水扁) son, Chen Chih-chung (陳致中), who was recently sentenced to three months in jail for perjury, yesterday announced his decision to run in the January legislative elections.
"Chen Chih-chung will not be absent from the legislative election in the district of Cianjhen [前鎮] and Siaogang [小港]," he told supporters outside his office in Kao-hsiung yesterday morning.
Chen Chih-chung's participation in Greater Kaohsiung's ninth district as an independent candidate would make the election a three-way race and could take support away from Democratic Progressive Party (DPP) candidate Kuo Wen-cheng (郭玟成).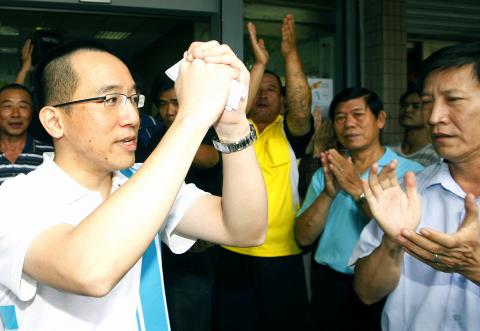 Former independent Greater Kaohsiung councilor Chen Chih-chung, left, announces yesterday his intention to stand in the January legislative elections in the Kaohsiung district of Cianjhen and Siaogang. Chen, son of former president Chen Shui-bian, was recently sentenced to three months in jail for perjury.
Photo: CNA
Chen Chih-chung's position as an independent Greater Kaohsiung councilor was annulled late last month after the Supreme Court found him guilty of perjury, a verdict he said amounted to political persecution.
There has been speculation that Chen Chih-chung's wife, Huang Jui-ching (黃睿靚), might take his place in the election if he had to serve jail time.
The Kaohsiung District Prosecutors' Office said on Monday that Chen Chih-chung could apply to perform community service instead of serving time, which makes it possible for him to complete the mandated community service program in time to register for the legislative elections.
Speaking to supporters yesterday, Chen Chih-chung said he was trying to come up with a strategy that would benefit him as well as the pan-green camp.
It could be a difficult goal as Chen Chih-chung and the DPP share the same support base.
Chinese Nationalist Party (KMT) candidate Lin Kuo-cheng (林國正) will run in the same constituency.
A DPP source familiar with Kaohsiung politics said Kuo currently enjoys a comfortable lead over Lin of between 10,000 and 20,000 votes. However, if Kuo or Chen Chih-chung finish with less than 10,000 votes, the other candidate could still garner enough votes to defeat Lin, the source said.
Speaking at a press conference yesterday, Kuo said that although the district had long been a DPP stronghold "it can't afford internal divisions."
The DPP has been trying to talk Chen Chih-chung out of running in the election and will continue to do so, DPP spokesman Chuang Ruei-hsiung (莊瑞雄) said.
Chuang called for Chen Chih-chung to "look at the big picture" and make sure that pan-green camp supporters are not faced with the "painful dilemma" of choosing between Chen Chih-chung and Kuo.
"I say that because a KMT victory in the district would be even more painful for green camp supporters to take," Chuang said.
Chen Chih-chung's participation in the election would definitely affect the DPP, party spokesman Kang Yu-cheng (康裕成) said. However, the party was unlikely to ask Kuo to stand down as the DPP's nomination procedures have already been finalized, she added.
Comments will be moderated. Keep comments relevant to the article. Remarks containing abusive and obscene language, personal attacks of any kind or promotion will be removed and the user banned. Final decision will be at the discretion of the Taipei Times.