US lawmaker warns China on Taiwan
BEACON OF DEMOCRACY: The head of the Formosa Foundation described Ros-Lehtinen's speech as the most pro-Taiwan given by any major Washington politician in a decade
US Representative Ileana Ros-Lehtinen, chairman of the House of Representatives' Foreign Affairs Committee, has warned China not to interfere in Taiwan's presidential election and promised to support Taiwan's democracy in every way she can.
In a wide ranging speech -delivered in Los Angeles on Saturday, Ros-Lehtinen called on US President Barack Obama to sell F-16C/D aircraft to Taipei and to work to improve relations with Taiwan.
"Taiwan remains a great beacon of democracy in East Asia and an important strategic ally in a key region of the world," she said.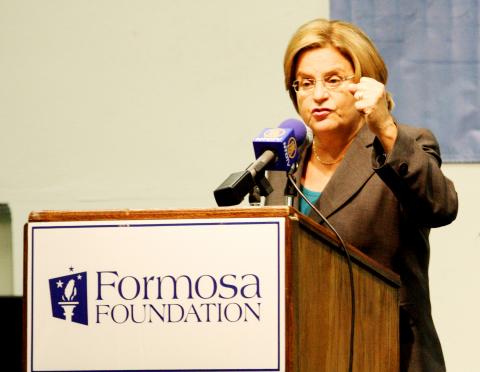 US Congresswoman Ileana Ros-Lehtinen, chairman of the House Foreign Affairs Committee, raises her first during a speech at an event organized by the Formosa Foundation in Los Angeles on Saturday. Lehtinen has organized a hearing before the full Foreign Affairs Committee this coming Thursday to investigate the state of US-Taiwan relations and the future of Taiwan's democracy.
Photo: CNA
Ros-Lehtinen, a Republican, was addressing a crowd of mostly Taiwanese-Americans at an event organized by the Los Angeles based Formosa Foundation.
She has organized a hearing before the full Foreign Affairs Committee on Thursday to investigate the state of US-Taiwan relations and the future of Taiwan's democracy.
"This is the first such hearing on Taiwan in seven years, but under my chairmanship, it won't be the last," she said.
"One of the reasons we will be holding this hearing is that I am deeply concerned for Taiwan's future, as it tries to cope with a rising China," she said.
"I am also increasingly troubled about recent trends in US-Taiwan relations, trends which suggest, as one academic writes; 'a marked decline in US support for the island's freedom of action.' Let me make one thing clear: I support the Taiwanese people and their democracy," Ros-Lehtinen said.
"Early next year, Taiwan goes to the polls to vote for both a president and a legislature. It's an important election and should be free from outside interference or coercion," she said. "Beijing needs to stay out of this election. China must not repeat the bullying of the 1996 election, when it sought to intimidate by launching missiles on Taiwan's election eve."
Formosa Foundation executive director Terri Giles said later that Ros-Lehtinen had assured the foundation that the US would support whoever won the election and that Washington did not back any particular candidate. Giles, who has been working for years to organize a US congressional hearing on Taiwan, said Ros-Lehtinen gave the most pro-Taiwan speech of any major Washington politician in a decade.
"Tragically, Taiwan appears to have become an afterthought in the Obama administration's larger aims of engagement with Asia and the Pacific," Ros-Lehtinen said.
"Taiwan has not featured prominently in the speeches of senior administration policymakers toward Asia, nor has it been a feature of discussion in relevant [US] Department of Defense planning documents," Ros-Lehtinen said.
She decried that there has not yet been a Cabinet or sub-Cabinet-level visit to Taiwan by the Obama administration to engage in senior-level discussions with officials in Taipei.
It was "stunning to contemplate," she said, that the last such visit by a US Cabinet-level official took place nearly 11 years ago.
"Is it wise for Washington to marginalize Taiwan in this manner or to signal to the communist leaders in Beijing a diminished commitment to Taiwan?" Ros-Lehtinen asked. "Absolutely not."
She said that it should be the firm policy of the US to encourage frequent Cabinet-level visits to Taiwan to foster deep and diverse commercial, technological and personal exchanges.
Ros-Lehtinen said the military balance across the Taiwan Strait continued to be eroded in favor of the People's Republic of China, while Taiwan's own defense spending was relatively weak and now less than 3 percent of GDP.
"In this circumstance, the US has a clear duty and national interest in seeking to provide Taipei with the means to deter Chinese aggression and the confidence to resolve differences across the Strait on terms favorable to Taiwan," she said.
"Taiwan urgently needs to upgrade its air defense capabilities, including upgrades of its existing F-16 fleet. It also needs investments in such systems as radar, electronic warfare systems and improved ground-based defense capability," she said.
"It is long past due for the White House to approve the sale of new F-16C/D fighter aircraft to Taiwan," she said.
The Economic Cooperation Framework Agreement (ECFA) could prove to be a political tool masquerading as a trade instrument to achieve China's ultimate goal of absorbing Taiwan, she said.
Ros-Lehtinen called on the Obama administration to admit Taiwan into its visa-waiver program and to successfully conclude Trade and Investment Framework Agreement talks with Taiwan, adding that the US should move towards an eventual free-trade agreement with Taipei.
"It is strongly in America's national interest to re-energize and upgrade relations between our two peoples and our two great democracies," she said. "In my capacity as chairman of the Foreign Affairs Committee, I hope to do just that in the weeks and months ahead."
The story has been updated since it was first posted.
Comments will be moderated. Keep comments relevant to the article. Remarks containing abusive and obscene language, personal attacks of any kind or promotion will be removed and the user banned. Final decision will be at the discretion of the Taipei Times.