Banned chemical found in antibiotic
FUNKY FRUIT: Speculation was raised that fruit flavoring might have contaminated the medicine, but an official said the level of DIDP was within tolerable daily limits
Major hospitals yesterday temporarily suspended use of the prescription antibiotic Augmentin, which is manufactured by GlaxoSmithKline PLC, following reports that tests had confirmed the presence of a banned chemical.
The news came after a TV news station recently sent samples of the antibiotic, which is produced and packaged in the UK, for laboratory testing, where it was discovered that the medicine tested positive for diisodecyl phthalate, or DIDP, at levels of between 14.8 parts per million (ppm) and 18.1ppm.
DIDP is one of six chemicals that have been banned from use in food and beverages by the Department of Health, along with di(2-ethylhexyl) phthalate (DEHP), di-isononyl phthalate (DINP), di-nbutyl phthalate (DBP), di-n-octyl phthalate (DNOP) and butylbenzyl phthalate (BBP).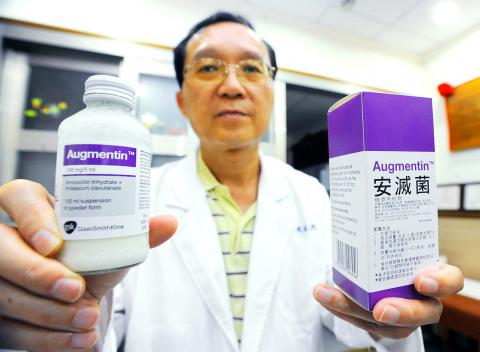 Doctor Lin Yung-zen holds a bottle and a pack of the antibiotic drug Augmentin in Taipei yesterday.
Photo: Wang Yi-sung, Taipei Times
Since news emerged that the potentially harmful chemicals had been found in food additives, the department as of May 31 has required manufacturers of five categories of foods and beverages — sports drinks, juice, teas, fruit jams and syrups, as well as tablets and powders — to provide certificates showing their products are free of the six chemicals.
Augmentin is commonly used to treat respiratory tract, urinary, abdominal and dental infections.
Questions have been raised as to whether a strawberry-flavored version of the drug, which is often prescribed to children, might have been contaminated by the artificial strawberry flavoring, as major jam manufacturers have recently been under investigation for using materials containing banned chemicals as fixative agents to keep flavoring and fragrances smelling fresh.
Food and Drug Administration Director-General Kang Jaw-jou (康照洲) yesterday said the department had sent samples of Augmentin for laboratory testing and that official results would be available in one or two days.
In the meantime, Kang advised those who may have taken the drug not to panic, as DIDP levels of 14.8ppm to 18.1ppm were still under the tolerable daily intake and would not pose a health risk.
Pending further test results to confirm the contamination, major hospitals including National Taiwan University Hospital, Mackay Memorial Hospital, Taipei General Veterans Hospital and Cathay General Hospital have temporarily halted use of the medicine.
Meanwhile, Department of Health Minister Chiu Wen-ta (邱文達) said that as of today, manufacturers and stores found selling contaminated food products would be forced to close.
Businesses found adding banned chemicals or contaminated ingredients from Yu Shen Chemical Co and Pin Han Perfumery Co to food would be severely punished and have their licenses revoked, Chiu said.
Retailers that sell products in the five categories of food products without certification that they are free of banned chemicals, as well as manufacturers who refuse to disclose the source of their ingredients when inspected, would also be told to shut down, he said.
Premier Wu Den-yih (吳敦義) has also accepted a request by the Democratic Progressive Party to brief the legislature on the government's response to the food scandal.
In related news, the Consumers' Foundation encouraged customers who have consumed tainted food and beverages, and suffered financial losses or health problems as a result, to register with the foundation, which plans to meet major manufacturers in the food industry that have been found to use contaminated products to discuss establishing a consumer protection fund.
The foundation said it hoped to meet next week with food and beverage companies to negotiate levels of compensation and methods of payment for victims of the tainted products, which would be managed in the form of a special fund designated for consumer protection.
ADDITIONAL REPORTING BY CNA
Comments will be moderated. Keep comments relevant to the article. Remarks containing abusive and obscene language, personal attacks of any kind or promotion will be removed and the user banned. Final decision will be at the discretion of the Taipei Times.