No missiles on the coast, PLA chief says
HOT AIR: Chen Bingde said China only has a garrison deployed across from Taiwan and that it does not have operational deployment, much less missiles, on the coast
A top Chinese military official warned the US that military and diplomatic relations with Beijing would suffer if Washington sold advanced weapons to Taiwan. The official also attacked the Taiwan Relations Act as a device used to interfere with China's "domestic" affairs.
"As to how bad the impact [of US arms sales to Taiwan] will be, it would depend on the nature of the weapons sold to Taiwan," People's Liberation Army (PLA) Chief of General Staff Chen Bingde (陳炳德) said in Washington.
Sources close to the administration of US President Barack Obama said Beijing was mainly opposed to the sale of F-16C/D aircraft, which Taipei has repeatedly requested.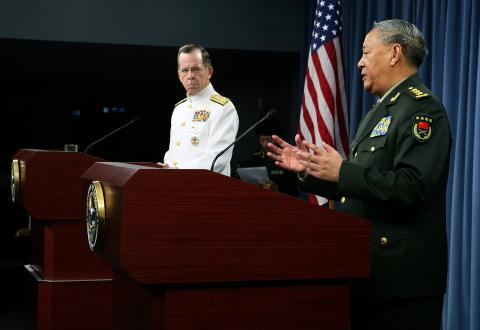 U.S. Chairman of the Joint Chiefs of Staff Admiral Mike Mullen, left, and Chief of the General Staff of People's Liberation Army of China General Chen Bingde, right, speak to the media during a news briefing May 18 at the Pentagon.
Photo: AFP
Obama is not expected to announce a decision on the sale of the fighters until later this year.
Sources said that one of Chen's main missions in visiting the US this week was to emphasize the strength of China's opposition to the arms sale.
Speaking at a joint press conference with US Chairman of the Joint Chiefs of Staff Admiral Mike Mullen, Chen said he had conducted "very frank, in-depth and fruitful discussions" with US leaders.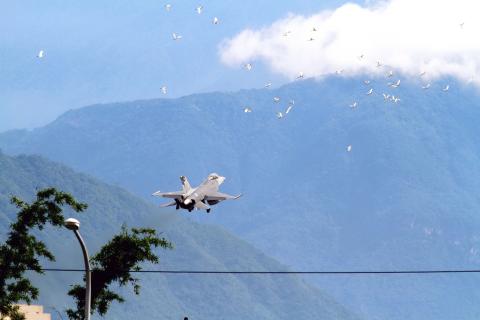 A flock of white egrets scatters before an F-16 jet during an incident near the Hualien airforce base at 8:56am yesterday. The pilot had to abandon a landing as he noticed the flock was about to enter his flight path. Such incidents are relatively common and are one risk factor during takeoff and landing at the base. Sources close to the administration of US President Barack Obama said Beijing was mainly opposed to the sale of F-16C/D aircraft.
Photo: Yu Tai-lang, Taipei Times
The US is extremely concerned about military-to-military relations with China and there are fears that without close ties it might be possible for small incidents to blow up into a crisis.
"China's efforts to enhance our military capabilities are mainly targeted at 'separatist' forces as headed by [former presidents] Lee Teng-hui (李登輝) and Chen Shui-bian (陳水扁), who have attempted to split Taiwan away from China," he said.
"Taiwan is an inalienable part of Chinese territory and people on Taiwan are our compatriots and blood brothers and sisters. We will use peaceful means to resolve the Taiwan question and achieve reunification," he said.
Chen Bingde told the joint press conference at the Pentagon that US Secretary of State Hillary Rodham Clinton had allegedly "confirmed" earlier in the day that under US policy there is only "one China" and that "Taiwan is part of China."
"I asked a question. I said: 'I've heard that comment, that statement, since I was a schoolboy and I'm hearing the same thing now I'm approaching retirement age. I wonder when can I really see the reunification of my motherland,'" he said.
He did not say how Clinton replied.
Chen Bingde said that one American friend suggested that China remove the missiles deployed along its southeast coast opposite Taiwan.
"I can tell you here, responsibly, that we only have garrison deployment across from Taiwan and we do not have operational deployment, much less missiles, stationed there," he said. "To be sure, we did make necessary military preparations to prevent 'separatist' forces headed by Lee Teng-hui and Chen Shui-bian, who attempted to split Taiwan from Chinese territory."
Chen Bingde was asked what would happen to US-China military-to-military relations if Washington sold F-16C/Ds to Taiwan.
"Taiwan is part of Chinese territory; that is known to all. Since it is part of China, why will it need the United States weapons sales to guarantee its security?" he said. "So, the Taiwan Relations Act is legislation that interferes with China's domestic affairs. To apply a domestic law, an issue which is another country's internal affair, how should I describe this? I think maybe I can use the word 'hegemonic.'"
"Decades have passed and the cross-strait situation has gone through fundamental changes. Any effort to try to contain China's development using Taiwan would be futile," he said. "Since I arrived in the United States, I've had the opportunity to talk to some members of the Congress and some of them told me that they also think it is time for the United States to review this legislation."
"Will future US arms sales to Taiwan impact the state-to-state and mil-to-mil [military-to-military] relations between China and the United States? My answer is affirmative — they will," he said.
For his part, Mullen said it was essential to move the military relationship with China in a more positive direction.
"We spent the bulk of our time talking, trying to understand the security environment from one another's perspective and trying to gain a better sense of the common interests we share," he said. "I believe that we have established a foundation upon which we can explain ourselves and that we can begin to look forward to mutual transparency about what we are doing."
Pressed to comment on the possible sale of F-16C/Ds to Taiwan, Mullen said: "With respect to the F-16s, the honest truth is I have not drilled down into that to make an evaluation about my own judgment with respect to the impact in terms of them [Taiwan] defending themselves or just how many or how much of an upgrade they might need."
"In the United States, as in China, we follow the law. We have a law, which is the Taiwan ­Relations Act, and we will continue to follow that until such a time as that may change. That's the responsibility of Congress to certainly initiate that, and while there may be discussions, that's not something I'm aware is up in terms of priority at this point in time," he said. "As long as that law remains in effect, certainly we will follow it."
Chen Bingde said he had invited Mullen to make his first visit to China as Joint Chiefs of Staff chairman, while he and Mullen also announced several agreements, including a plan for the US and Chinese militaries to jointly conduct a humanitarian assistance and disaster relief exercise next year.
They also agreed to use a special telephone link to maintain communication between their offices.
Chen Bingde told reporters that China's recent boost of investment in military power was "compensatory in nature," making up for decades during which modernizing the Chinese economy was given the first priority. Washington often complains that China is too secretive about the purpose and exact scale of its military buildup.
Earlier, during a 45-minute speech at National Defense University, Chen Bingde had sought to counter US worries about his country's rapid military growth, saying: "Although China's defense and military development has come a long way in recent years, a gaping gap between you and us remains."
"China never intends to challenge the US. I can tell you that China does not have the capability to challenge the US," he said, adding that China's wealth and military strength paled in comparison with that of the US and its navy was 20 years behind the US Navy.
Chen Bingde's remarks were in line with China's strategy of countering US fear of China as a military threat by emphasizing the limited scope of its military reach and advancing efforts to cooperate in areas like counterterrorism and anti-piracy measures.
Chen Bingde will visit military installations, including Norfolk Naval Station and the Army's National Training Center in Fort Irwin.
He is scheduled to return to China on Sunday.
Comments will be moderated. Keep comments relevant to the article. Remarks containing abusive and obscene language, personal attacks of any kind or promotion will be removed and the user banned. Final decision will be at the discretion of the Taipei Times.