Tsai takes stand on right to privacy
ASKED AND ANSWERED: In her statement, Tsai characterized Shih Ming-teh's remarks as 'surprising,' given his past work in Taiwan's democracy and human rights movement
Democratic Progressive Party (DPP) presidential hopeful Tsai Ing-wen (蔡英文) said yesterday she would not be responding to a media furor over her sexual orientation.
"There is nothing wrong with any gender, sexual orientation or marital status. Nobody has the right to question another [on this]," Tsai said in a short -300-word public statement.
Tsai said she would use the opportunity presented by the furor to promote awareness about discrimination, suggesting that an individual's right to privacy concerning their sexual orientation was akin to a human rights issue. She said she would work to "eliminate gender discrimination in Taiwan."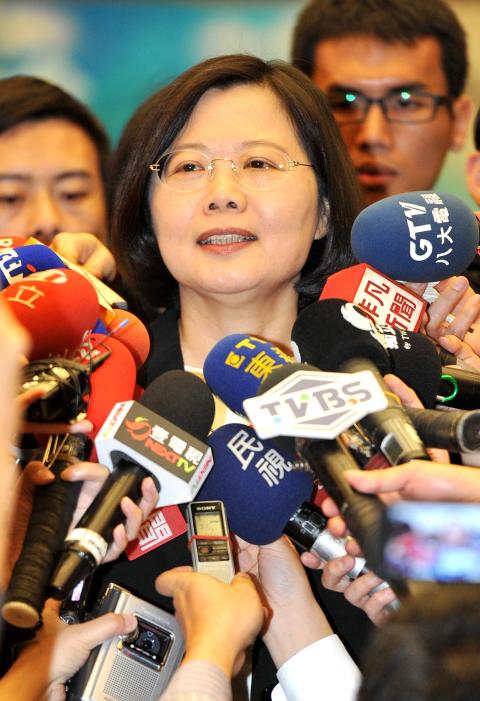 Democratic Progressive Party (DPP) presidential hopeful Tsai Ing-wen talks to the press following the third televised session yesterday. She said she would not be responding to a media furor over her sexual orientation.
Photo: Chien Jung-fong, Taipei Times
"I will lead Taiwan as a country that respects human rights and is more accepting. I will also work to ensure that minority groups experience the same quality of life, happiness and respect on this piece of land as everyone else," she added.
Former DPP chairman Shih Ming-teh (施明德) drew criticism on Thursday after he called on Tsai, who is single, to clarify her sexual orientation, saying that voters needed a "clear answer" before voting for her next year.
"She needs to be true to herself, her body, in order to be true to her beliefs and her country," Shih said.
Lawmakers across party lines, as well as gay rights and feminist groups, have come to Tsai's defense over the past two days, saying that it is irrelevant for the presidential hopeful to disclose such personal details.
The Taiwan Women's Link on Friday called on Shih to either explain the relevancy of his remarks or "apologize to all single women, gays and female politicians."
Tsai's competitors in the DPP primaries also said they did not believe a candidate should be questioned on their sexual orientation.
"Taiwan cannot be like this and politics should not be like this. I do not think that it's a good idea," Su Tseng-chang (蘇貞昌) told reporters yesterday.
Hsu Hsin-liang (許信良) said he was "astonished" by Shih's questions, which he called a violation of Tsai's privacy.
In the statement, Tsai said she would "definitely not" respond to a line of questioning she characterized as "surprising" — considering Shih's past work in Taiwan's democracy and human rights movement.
"Because if I did, it would amount to recognizing his right to question anybody [on the issue]," Tsai said.
Asked whether she felt angered by the remarks at a later setting, she said she "wasn't angry, did not care and did not plan to respond on the issue any further."
Tsai, who has temporairily stepped down as DPP chairperson, has not been linked to anybody romantically in the past decade she has been a public figure.
The questions come at a sensitive time for her, with two weeks left before the telephone polls used to settle the primaries between April 25 and 29.
Comments will be moderated. Keep comments relevant to the article. Remarks containing abusive and obscene language, personal attacks of any kind or promotion will be removed and the user banned. Final decision will be at the discretion of the Taipei Times.