DPP hopefuls refine platforms
PASSIONATE PLEA: Presidential contender Hsu Hsin-liang, who used to be chairman of the party, called for the doors to be cast wide open to Chinese money and students
The three Democratic Progressive Party (DPP) presidential hopefuls refined their campaign platforms yesterday in a vibrant and passionate appeal for support amid close poll numbers and with only days left before the primaries end.
In the first of four televised policy platform addresses, the candidates differed over how they would tackle problems they said the country faced, including a growing income gap, the social welfare situation and the economy.
However, they all focused on how their potential administrations would tackle cross-strait issues and the relationship with Beijing.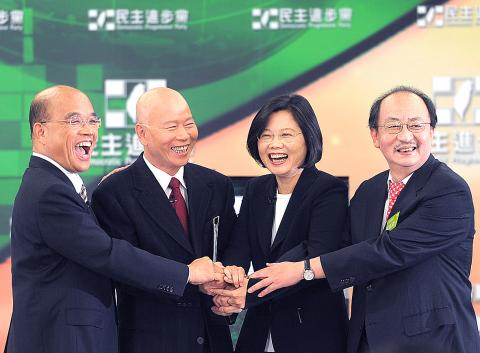 Democratic Progressive Party (DPP) presidential hopefuls join hands with the acting DPP chairman ahead of the televised presentation of their election platforms yesterday. From left to right are: former premier Su Tseng-chang, former DPP chairman Hsu Hsin-liang, former vice premier Tsai Ing-wen and acting DPP Chairman Ker Chien-ming.
Photo: Fang Pin-chao, Taipei Times
The discussions highlighted some of the main challenges the party expects to face as it heads into the presidential election.
Frontrunners Tsai Ing-wen (蔡英文), who took a leave of absence as party chairperson to run for president, and former premier Su Tseng-chang (蘇貞昌) refrained from making any new policy announcements, but listed a long line of issues they said needed to be tackled, while defending their records in government.
Tsai said future DPP cross-strait policy would be more "steady and moderate" than that of former president Chen Shui-bian (陳水扁), while Su said the DPP had learned from its mistakes and reflected on its performance since it lost the presidency in 2008.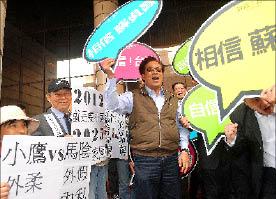 Supporters of Democratic Progressive Party (DPP) presidential hopefuls Su Tseng-chang and Tsai Ing-wen gather outside Taipei International Convention Center, where the candidates presented their campaign platforms yesterday.
Photo: Chien Jung-fong, Taipei Times
"I believe that the DPP's abilities to handle cross-strait relations exceed the current administration's. We can responsibly and viably handle the ties [with China], which will be normalized and stabilized," Tsai said. "I have confidence that I can be a firm and steady leader."
However, she was also careful to say that many of the policies she had laid out had been ongoing since before 2008, when she led the Mainland Affairs Council and was vice premier, citing the DPP's "three small links" policy and cross-strait charter flights as examples.
"These policies would have continued if the DPP had continued governing past 2008," she said.
Su tackled the touchy issue of Taiwan's sovereignty, suggesting that he favored a stronger separation between Taiwan and China.
He said that Taiwan was already "undisputedly" a sovereign democracy called the Republic of China.
"And any changes to this require a wide consensus from all of society," Su said. "I believe that the most important thing is that Taiwan is united [internally] and that we can present a common front abroad."
The most emotional performance came from Hsu Hsin-liang (許信良) when he said that Taiwan should "open up wide to Chinese money, students and tourists" — true to his election announcement that he did not expect to win, but hoped to influence election policy.
"The single most important issue is Taiwan's economic growth," Hsu said.
"I care about cross-strait ties because I care about their economic impact. Only with growth can we craft and fund better social welfare policies," Hsu said.
His participation in the discussion was a wildcard for Tsai and Su, who offered more restrained remarks closely modeled on what they have been saying for the past few weeks. Both candidates made references to Hsu's remarks, but not to each other's.
The televised appearance -offered the three an equal platform and a chance for the public to see them directly compare their ideas for the first time. It was broadcast live on FTV News and moderated by FTV host Hu Wan-ling (胡婉玲).
Revealing moments included forgetting to call on Hsu to answer a moderated question and Hsu passionately recalling his past experience as a democracy activist to lend credibility to his remarks. Hsu has been trailing heavily in polls behind Tsai and Su, both of whom he has said would make a "more viable" candidate to represent the DPP.
Tsai and Su struggled when pressed to name more "substantive measures" they would implement to grow Taiwan's economy. The two called GDP numbers "a flawed indicator of growth." Taiwan's economy is expected to grow 6.14 percent this year.
Tsai said a future administration needed more measures to support small to medium-sized enterprises and that economic policy must create better-paying jobs. Farming, she said, needed to become an engine of growth.
In return, Su said that Taiwan's industry "is vibrant," but needs more government support, while suggesting that current cross-strait policy has given too much power over Taiwan's economic policy to Beijing.
"Successful economic policy is seen through the happiness of the Taiwanese people," he said.
Hsu, meanwhile, called on greater deregulation of Taiwan's economy, especially to China.
"President Ma [Ying-jeou (馬英九)] was too timid. If he wasn't so timid, we wouldn't even be in this race today," he said. "If he let in 20 million Chinese tourists, we would have all applauded him."
The two-hour discussion fielded three questions each from academics and former policymakers: former Mainland Affairs Council chairperson Joseph Wu (吳釗燮), Taiwan Thinktank chair Chen Po-chih (陳博志) and Ku Chung-hwa (顧忠華), a sociology professor at National Chengchi University.
Candidates were not given the opportunity to ask each other questions, a policy that will hold for the three discussions the DPP will hold later this month, on April 13, 16 and 20, which will be broadcast on cable news stations ETTV, Era News and SET TV respectively.
An issue of interest during the session were Tsai and Su's remarks on the qualities they believed Taiwan's next leader needed, using the televised opportunity to give themselves a leg up on tightly contested polls by endorsing themselves.
"We have to compare who is best suited to lead the country during an era of rapid global change," said Tsai, 54, the youngest of the three. "Taiwan needs a next generation leader. The future president must be willing to tackle the difficulties we face."
However, Su, who was Tsai's superior as premier between 2006 and 2007, said: "The difficulties Taiwan faces are only becoming greater and the responsibilities facing the future leader of this country are only going to become larger."
"We need a leader that can take control of our direction," he said.
Through the proceedings, Su also spoke on his ideas on national restructuring, calling the current division of special municipalities, cities and counties "unequal." Tsai also unveiled the three main points she called essential to Taiwan's future: safeguarding sovereignty, economic renewal and a more -harmonious society.
DPP officials called the discussion, which remained cordial and on schedule, "a success."
"We hope this atmosphere can continue in the three more coming sessions," DPP spokesperson Cheng Wen-tsang (鄭文燦) said.
Comments will be moderated. Keep comments relevant to the article. Remarks containing abusive and obscene language, personal attacks of any kind or promotion will be removed and the user banned. Final decision will be at the discretion of the Taipei Times.