Social workers protest for benefits
Following the death of a social worker in Taitung County last month, allegedly from overwork, dozens of her colleagues yesterday staged a demonstration outside the Control Yuan over what they called the government's refusal to provide better benefits to workers and lack of manpower.
"Are we not professional enough? Do we not have professional knowledge and skills?" Modern Women's Foundation executive director Yao Shu-wen (姚淑文), a veteran social worker, called out through a loudspeaker.
"No!" the protesters shouted back.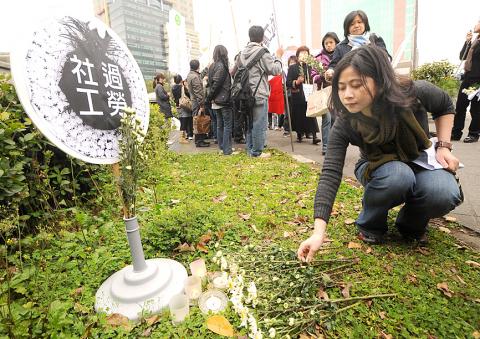 A social worker lays a flower beside a wreath during a protest outside the Control Yuan in Taipei yesterday. The protestors were calling on the government to take action to reduce the workload faced by many social workers after one died in Taitung earlier in the week from overwork.
Photo: Liu Hsin-de, Taipei Times
"Then why does the government refuse to give us professional pensions?" Yao asked.
The Executive Yuan's Central Personnel Administration (CPA) has rejected requests for professional pensions and hazard pay, based on the argument that professional pensions do not apply to people without the status of government employees even if they work for the government. It also maintains that social workers' jobs are not as "hazardous" as that of police officers and firefighters.
However, Yao said that as a result of manpower shortages, social workers often have to work overtime and are on call 24 hours a day without additional pay.
On some occasions, they also find themselves in life-threatening situations.
"There was even one instance when, as a social worker was accompanying a victim of [domestic] abuse to court, gang members affiliated with the victim's husband blocked every doorway at the courthouse while attacking the spouse and the social worker," Yao said.
Taiwan Coalition Against Violence president Chou Ching-yu (周清玉) said social workers were poorly paid because the majority were working on contract despite working for government social affairs departments.
"One example is that of a senior social worker in Changhua County who has worked as a social worker for more than 30 years and is now a supervisor. However, her monthly pay is slightly more than NT$40,000," Chou said.
Raising social workers' pay would make an important contribution, as many end up quitting because they don't earn enough to support their families, Chou added.
Taipei Women's Rescue Foundation executive director Kang Shu-hua (康淑華) said that while more than 120,000 cases of domestic abuse and sexual assault requiring the intervention of social workers were reported annually, the nation has only about 660 social workers.
"This shows the government doesn't really care about social workers or the people they help," Kang said. "Their mentality is that it's good enough as long as nothing [bad] happens."
Social workers said they could no longer bear the situation, which had been allowed to simmer for years, after the death of Taitung social worker Fang Feng-chen (方鳳珍) late last month.
Following her death, the groups filed a petition with the Control Yuan asking it to launch a probe into whether the CPA and the Ministry of the Interior were guilty of administrative wrongdoing.
Responding to the protest, the ministry's Domestic Violence and Sexual Assault Prevention Committee executive secretary Chien Hui-chuan (簡慧娟) said it was committed to helping government-employed social workers qualify for professional pensions and hazard pay, adding that the ministry would also discuss salary adjustments for outsourced and contractual social workers with the Cabinet.
Chien said the ministry had also launched a six-year project to increase manpower.
"This year, 600 more social workers will be introduced, with at least 200 focusing solely on cases of domestic abuse and sexual assault," she said.
CPA Chief Secretary Chang Nien-chung (張念中) said the administration was reviewing regulations.
ADDITIONAL REPORTING BY SHIH HSIU-CHUAN
Comments will be moderated. Keep comments relevant to the article. Remarks containing abusive and obscene language, personal attacks of any kind or promotion will be removed and the user banned. Final decision will be at the discretion of the Taipei Times.