Small protests greet Chinese envoy
OPPOSITION: Protest groups said they expected hundreds to take to the streets in Greater Kaohsiung today when Chinese envoy Chen Yunlin lunches with KMT politicians
Association for Relations Across the Taiwan Strait (ARATS) Chairman Chen Yunlin (陳雲林) arrived in Taiwan yesterday for a six-day visit, sparking a series of small protests at a number of venues.
Small groups of protesters targeted venues at which Chen made appearances, but failed to match the scale or intensity seen during his three previous visits to the country.
However, the rallies are expected to intensify today as Chen makes his first foray into parts of southern Taiwan.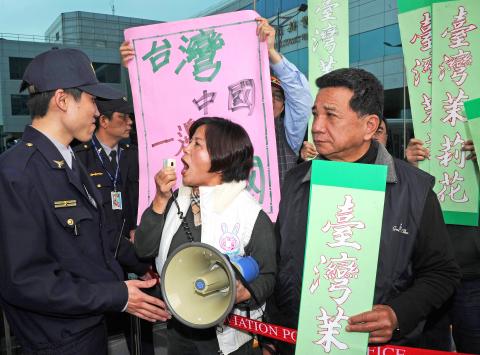 Protesters display posters reading "One Taiwan, one China" as Chinese negotiator Chen Yunlin arrives at Taiwan Taoyuan International Airport yesterday, leading a delegation of representatives from Chinese state-owned companies.
Photo: Sam Yeh/AFP
This is Chen's first visit to Taiwan mainly for sightseeing. It is also the first time his wife, who is facing allegations that she had taken advantage of her husband's position to embezzle US$300 million, did not accompany him to Taiwan.
Chen, who is leading a delegation of about 20 Chinese companies, said the purpose of his trip is to seek development opportunities for both sides and establish a platform for businesses to exchange opinions and share experiences.
"It is the only and correct way for peaceful development between the two sides," he said. "Such exchanges have come too late. However, it is not our fault, but a historic mistake made in the past that must be corrected."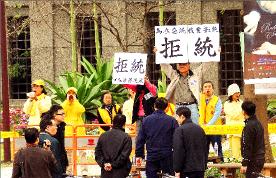 People hold up signs that say "Resist Unification" outside the hotel where Chinese envoy Chen Yunlin was staying yesterday. Chen is currently leading a trade delegation to Taiwan.
Photo: Chang Chia-ming, Taipei Times
Chen also expressed hope that Taiwan would ease regulations on Chinese investment, saying the more and the earlier, the better.
Groups of protesters led by Democratic Progressive Party (DPP) city councilors and several pro-independence organizations have vowed to tail Chen around the clock to oppose growing cross-strait ties that they say have come at the expense of Taiwanese sovereignty.
DPP politicians joined by less than a dozen protesters and Falun Gong supporters confronted Chen as he walked into Grand Hyatt Hotel in Taipei in the afternoon.
The Chinese envoy did not respond to attempts by Jack Chen (陳嘉爵), the manager of former president Chen Shui-bian's (陳水扁) office, to offer him jasmine flowers and jasmine tea, a reference to a fledgling protest movement in China.
Jack Chen and other protesters, including DPP Taipei City Councilor Tung Chung-yen (童仲彥), were stopped outside the hotel by uniformed police, part of the dozens deployed for the visit. However, there were noticeably fewer police than before.
Protest groups said they expected hundreds to take to the streets in Greater Kaohsiung today when Chen Yunlin lunches with local Chinese Nationalist Party (KMT) politicians and tours factories and Kaohsiung Harbor.
"President Ma Ying-jeou (馬英九) is clearly moving toward unification, which is opposed by 80 percent of the people. We must do what we can do to oppose this situation ... and fight for Taiwan," said Chen Che (陳哲), one of the protesters.
Carrying large banners that read "Unification is a [dead] end" and "Refuse Chinese rule," retired civil servant Wu Ji-sheng (吳日昇) said Chen Yunlin was "the devil," intent on discrediting Taiwan's de facto independence.
"He's not welcome here. We don't want representatives of the Chinese Communist Party here in Taiwan," he said.
Sources have confirmed that protesters will congregate at Kaohsiung Harbor to rally against Chen Yunlin's first scheduled appearance in Greater Kaohsiung, a day before he moves on to Chiayi City, Chiayi County and then Yunlin.
The protesters are expected to include dozens of members from the Southern Taiwan Society, the Alliance of Referendum for Taiwan and the One Side One Country alliance, spearheaded by Chen Shui-bian's son, Chen Chih-chung (陳致中), who was elected Greater Kaohsiung councilor in November.
"We don't want Chen Yunlin to come here as part of [China's] unification efforts and show that Taiwan is a part of China," said Chen Chih-chung, who along with some DPP councilors, have prepared an open letter to give Chen Yunlin.
"Taiwan is an independent, sovereign country," reads the first sentence of the letter.
Chen Chih-chung and several other Greater Kaohsiung councilors filed a lawsuit against Chen Yunlin hours after his arrival, a Central News Agency report said.
The councilors said Chen Yunlin covered up information about tainted milk products from China that affected the health of Taiwanese consumers in 2008.
They also accused the Chinese envoy of hindering the freedom of 14 Taiwanese deported by Philippine authorities to China for their alleged involvement in an international scam targeting China.
DPP politicians in Chiayi and Yunlin also say they have mobilized dozens of supporters in anticipation of Chen Yunlin's visit tomorrow and on Saturday in a move that hasn't received an endorsement from central party headquarters, which has no plans of holding rallies.
As many as 300 police officers are expected to be deployed in and around Chen Yunlin's hotel today at the Eda World in rural Greater Kaohsiung. TV footage showed dozens of barricades have already been set up in and around the tourist complex, also the venue of the Chinese envoy's luncheon today.
Also yesterday, Straits Exchange Foundation (SEF) -Secretary--General Kao Koong--liang (高孔廉) told reporters after a 90-minute closed-door forum with Chinese and Taiwanese businesspeople that both sides had agreed it would only be to each other's advantage if more Chinese investments were allowed into Taiwan.
"China has the market and some brand-name products. Taiwan has the manufacturing power, technology and experience of international marketing. If we work together, we can increase our global market share," Kao said. "We think that one plus one is not equal to two but 11."
Among the possible cooperation projects is developing wind power on coastal areas, Kao said, adding that by working together, Taipei and Beijing could build the world's biggest power generation center.
However, Kao said those were merely preliminary talks and that both sides would have to work hard to make the project a reality.
Chinese businesspeople also expressed the hope that Taiwan would relax regulations on Chinese investments, Kao said.
Two of their major concerns are immigration controls and limitations imposed on Chinese investors, he said.
To resolve these problems, Kao said the administration would study the possibility of making it easier for Chinese businesspeople to visit Taiwan before they establish their companies here, including allowing them to stay for two months, which can be extended to four.
Taiwan allowed Chinese investment in June 2009, but to date, has only attracted US$130 million in investments. Chinese businesses have blamed the meager amount on Taiwan's tight regulations.
ADDITIONAL REPORTING BY CNA
Comments will be moderated. Keep comments relevant to the article. Remarks containing abusive and obscene language, personal attacks of any kind or promotion will be removed and the user banned. Final decision will be at the discretion of the Taipei Times.